Google Voice Typing Vs Microsoft Dictate Vs Braina Lite: Comparison of Voice Dictation Tools
There are a handful Voice Recognition and Dictation tools available for user to read out to computer to convert spoken words to text.
Below we compare the best 3 tools available as in January 2019.
Google Voice Typing I docs.google.com
Google Voice Typing is the simplest and integrated seamlessly within Google Docs.
Once you've opened a document and selected 'Voice typing' from the drop-down Tools menu, just click the on-screen microphone and speak.
Some users many feel a lag since Google Voice Typing uses cloud processing to figure out exactly what you're saying – but after a second or so, just like google assistant on mobile, your words, punctuation and even formatting appear on the page.
With any free voice-dictation software, it's recommended you go through the content afterwards, manually correcting mistakes.
Google Voice Typing's impressive accuracy makes this job a lot easier, especially since right-clicking underlined words displays possible suggestions for misheard words.
There's more to Voice Typing than actual typing. You can highlight words, insert tables and shift around the page by ordering the cursor to relevant sections. This helps maintain your flow, rather than breaking it as you pause to grab the mouse.
Our only gripe about Google Voice Typing is that it is locked to Chrome. Try to access the option in any other browser and you'll find it's greyed out. Currently, the tool is only available for Docs and for adding speaker notes to Slides.
We'd like to see speech recognition rolled out to other Google products – it seems a logical evolution, considering the rise of smart speakers such as Google Home.
Google Voice Typing delivers an effortless and impressively accurate speech-to-text experience. Despite being unavailable on non-Chrome browsers, its sleek presentation and admirable performance make it far less frustrating than other similar tools, and a joy to use.
Verdict : 9/10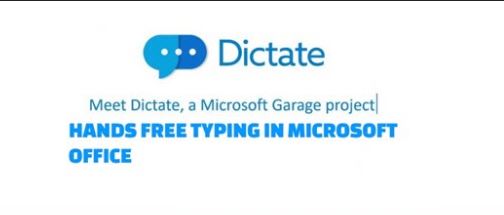 Microsoft Dictate
MS is not a stranger in voice-recognition tools, which is around for a while and compatible with Word, Outlook and PowerPoint, harnesses the might of Microsoft's Cognitive Services, the online Al that powers Cortana and Translator. That means Dictate does what Speech Recognition has always struggled with: recognising speech.
Selecting the Dictation tab on the ribbon opens a sparse interface with a Start/Stop button. Click this and your spoken words whip along a Response bar, processed online and appearing onscreen without too many mistakes; an average hit-rate of 80 out of 84 words.
Elsewhere, you'll find an option to switch to manual punctuation. But the stand-out feature is the translator that converts speech into all major languages as you speak.
Dictate isn't the quickest horse in the stable, though it's fun to see your words gallop across the page three seconds after uttering them. There are some peculiar word choices and, like Google, it occasionally typed 'comma' and 'full stop' in full instead of the punctuation marks. The real deal-maker-or-breaker is that, in running on Microsoft Cognitive Services, Dictate only works online.
Dictate is actually quite good, you'd think it was a fully fledged, Microsoft-supported product. Translation integration is  expertly done and needs to become a built-in office feature.
Verdict: 8/10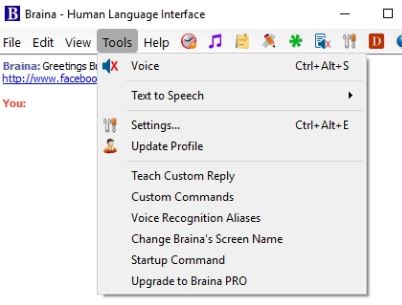 Braina Lite
Braina Lite – the free version of an otherwise paid-for tool – is an Al-based virtual assistant capable of opening files and programs on your computer. It falls short of Google and Cortana, but that's down to poor design rather than performance.
The tool barely stumbles when transcribing. Faster than its rivals, Braina Lite delivered the same overall accuracy as Google. But the tool is awkward because you need to copy and Paste captured words into your word Processor separately.
Dictation mode should let you directly dictate into third-party software such as Word, but the software demands a full Purchase to use this feature along with Several others. At least if your Phone isn't up to scratch, you can Siri-style app (iOS and android).
We rarely come across software that so completely locks down the menu bar; almost every button at the top of the screen is out of bounds in the free version. Instead, you need to manually type such commands as 'Dictation mode on', which is stunningly counter¬intuitive for a voice-controlled tool.
However, compared to Google and MS, the tools shows it's signs of immaturity and errors.
Verdict: 8/10