The Tale of Two Bubbles: Short Story on Pakistani High Society by Ayra Khan
The cacophony of car horns and street vendors could still be heard as you pulled up to Sophia Khan's Lahore home. Her house, being just one kilometre away from MM Alam Road- the Oxford Street of Lahore as some call it, a walkway of high end boutiques like Sapphire and Khaadi which would have swarming masses of women, desperate to get their hands on the latest lawn (during the summer heat it can become up to 45 degrees in the city of Lahore, during these months many women wear shalwar kameez, a part of Pakistan's culture) and elite dining spots including Café Aylanto, one of the most expensive restaurants in the city, the perfect place to take your in-laws or parents or to wear a knee length dress which would be unprecedented in any other place in Lahore or go for a smoke, maybe have a bottle of wine, just make sure the waiter puts it in the dark coloured glass (despite drinking being strictly prohibited.)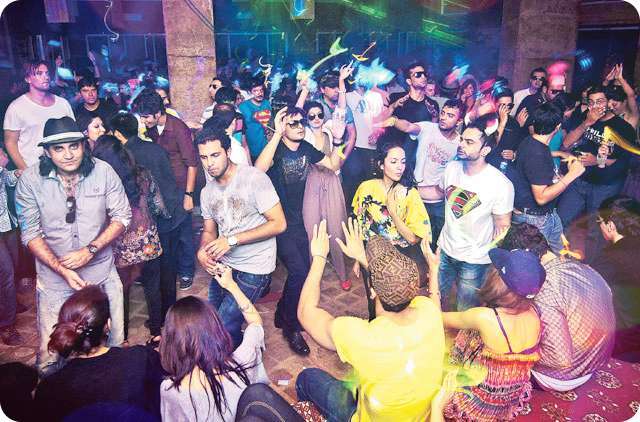 With the throng of exclusive restaurants and boutiques, it was no wonder that Sophia's home which was bought by her great-grandparents in 1949 was now worth an astounding 600 million rupees.
Sophia's grandmother, Sheila Khan sat in one of the , "living rooms," of her home with a her closest school friends, there was Kitty Amir, her husband owner of AE textiles, which not only supplies boutiques like Sapphire, Khaadi and Elan, but also exported to the US and UK, Aneela Anwar, wife of Haroon Anwar, who was a member of the Punjab Provincial Legislative Assembly and not to mention one of the biggest landlords in the province, Surayah Azeem, recently divorced from her husband Ahmed Naseem, owner of LINTA pharmaceuticals who got a fat settlement in her divorce. (Rumour has it she received $14.6 million in property alone!)
The, "living room," as the family modestly called it ran through the entire northern end of the house. Wall to wall there was a sea of warm, dark wood with art deco devians, wicker club chairs and ottomans casually grouped in different seating areas. As you walked in, all you wanted to do was take in every exquisite detail of the alluring space: the scarlet shaded opaline glass lamps that cast an amber glow over the dark mahogany surfaces, the rich, deep blue and sunset gold decoration pieces which sat supreme on the lacquered teak surfaces, the swarming masses of grand paintings which the family collected on their travellers-encapsulating you into a space which cast an aroma of not only exceptional wealth but of class, of taste, of eloquence. Every single object, from the silk ottomans to the luxurious white sofas was imbued with a patina of timeless elegance, as if it had been there a hundred years.
"What about Shahab Khan, he's my cousin's best friend's son, I was him at my niece's wedding last month, he's very good looking," suggested Kitty.
"What does the Father do?" Inquired Sheila.
"The father is an engineer at some top company, but the son has a degree from Oxford, he's planning to start his own business, apparently he is very clever and business minded, seems like a good match for Sophia."
"Kitty, how many times do I have to say it," sighed Sheila.
"I am not having some new money young boy, marry my only granddaughter, yes it's all well and good that he has a degree from oxford but so what, I heard the boy did his O levels at Beaconhouse! Beaconhouse! When he starts his business who is he going to call when he needs Dawn newspaper to run an ad for him in the paper, not anyone from Beaconhouse, I can tell you that much, he'll have to probably pay 15,000 which no new business can afford, or what if the police make some trouble for him during construction, I haven't heard of a single DIG who isn't from Aitchison. Being educated and having all these big dreams is all well and good, but this is Pakistan you all know you cannot truly succeed without contacts and family connections and I'm sure an average engineer's son doesn't have many of those."
"I agree," said Sureyah, "what about Hamza Ali?"
"Usman Ali's son?" asked Sheila, her interest peaked, Usman Ali was the owner of three huge multi-million dollar companies, a printing press which supplied newspapers throughout the Punjab province and had 20 year contracts with the Daily Express and Pakistan Times, a stationary brand which created high-end, sophisticated supplies for the top schools as well as for the national assembly and an export business which sent mangoes, apples, oranges to the middle east from family farms in Sindh, Baluchistan and Punjab. If Sheila's granddaughter married Usman Ali's son, it would be cause for a mammoth celebration, a marriage between two equals, which would only further their family legacies of sophistication and wealth. Still Sheila, tried to hide her excitement with a false façade of disinterest.
"Wasn't the son's grandmother in our batch at Convent? God what was her name?"
"Shawa Ahsan," replied Kitty.
"God she was such a bore; how can I want in laws like that for my granddaughter?" Kitty sighed, she was started to wonder if they would ever find a match for Sophia with Sheila's high expectations.
"Who cares about the stupid grandmother, I heard that since her husband had a heart attack last month, she's been running around like a headless chicken going to every law firm in Lahore, trying to find out what she's set to inherit."
"Let's hope she inherits nothing, Usman Ali should get the bulk of the properties and from what I hear, Hamza's already started running his grandads' export business."
"Yes, but have you heard all the gossip about Usman's daughter?" said Kitty, deceitfully trying to hide her true motives as her second cousin's daughter was hoping to secure a marriage into the Ali family.
"What about her?" asked Sheila.
"Apparently, the daughter's a proper party girl, not demure at all. My husband's best friend who owns National Hospital told me she spent two nights under observation due to alcohol poisoning," remarked Kitty.
"Tobah! I will not have my daughter married into such a household, what other people are there girls?"
Sheila Khan's midnight black, S-class Mercedes arrived at Ahmed Amjad's modest Lahore home.
The patriarch of the family didn't even try to hide the look of contempt written on her powdered face. All those years of meticulous planning, from calling young boys like Hassan Ali (son of property tycoon, Nasir Ali) and Muhammad Irfan (son of Nadir Khan, owner of Khan Jewellers) for afternoon tea at her house since they were young children in the hopes that her granddaughter would take a liking to one of them, to taking appointments with Sophia's head teacher at Lahore Grammar School when that wretched English teacher made her sit right by the window, which would surely ruin her complexion and diminish her chances of a good marriage to even befriending bores like Shawa Ahsan (wife of businessman Ali Ahsan) in order for them to take a liking to Sophia and release that to refuse a marriage from a family like hers, with a granddaughter like hers would be criminal.
Those years of conscientious political moves, like deciding whether attending Shameer Ali's son's wedding over Haroon Ahsan's would convey that she was more determined to secure a marriage into their family, those years of cleverly contriving which girls from which households would befriend Sophia and later down the road be an advocate for her marriage into one of their elite families, those years of rejecting acceptable candidates, candidates who had obtained degrees from Harvard, Oxford and MIT, candidates who she was sure had the knack and skill to become successful self-made businessmen just because they didn't attend Atchison College or because she had never once seen their parents at dinner at Aylanto or at a wedding at Lahore Garrison. Those years all gone to waste as she stood outside this modest (at best) home in a typical, average, new money zip code for her granddaughter's wedding function.
Originally, Sheila had her jeweller, the prominent, Anum Ashfaq, her close friend, Aneela's second cousin to create a stunning piece for Sophia's nikkah at a discounted price given her family connection, and the fact that it was planned to occur at Badshahi Mosque a stunning and timeless venue where the elite crop of Pakistani society signed their wedding papers which would be great publicity for her brand.
Outside the mosque would be dozens of photographers from paparazzi magazine to brides and you-itching to get photographs of the brides clothing, jewellery and entourage. However, since Sophia had made the decision to marry outside of the family's social circle and even worse out of their class group, Sheila could not at least try to hide her disapproval by arriving with a set of small, pearl earrings given to her by her mother on her 18th birthday, a two-year old baby pink, Gucci bag- a present from one of her husband's business partner's wives while the four of them were on vacation in Mauritius and some lightweight foundation with a tint of blush which she had done herself at home, nothing compared to the full face of makeup she planned to get done from Sobia Nadir, a renowned bridal makeup artist in Lahore.
Sheila's small shoulders stood tall and her pointed chin elevated upwards as she looked down at the home her granddaughter was to be married into. The house tried to give the illusion of a modern mansion situated in an unequivocal neighbourhood-but failed miserably.
Firstly, how could a house which Sheila estimated to be just one kanal compare to the sprawling mansions and villas which littered other adjoining neighbourhoods, but were at least four times its size. It was painted a dull, neutral beige, containing just one terrace which overlooked to driveway which upon further inspection Sheila realised would only fit two vehicles at best and was now revealing a standard white corolla.
Sheila's throat became dry and tight as she realised this was the only car in the driveway, there was no jeep, no Mercedes, from this day onwards her granddaughter would have to sit in the same car to go to dinner with her friends or brunches with her family that had driven her to primary school. The terrace had a small square opening and next to it an adjoining rectangular pillar with darker wooden panels, a smaller, even more modest front garden contained a small stretch of grass, but nothing was worse than the small gate which had a shiny silver border and a set of beige and dark brown squares. It was Sheila's new money, average income nightmare, and her granddaughter was going to live it.
After the signing of the papers and some small talk, Sheila had had enough of affiliating with these middle class people, enough of sitting in a room full of pale white walls and tacky grey stone floors, of trying hard to hide her scorn for the sake of her granddaughter despite her having done everything to earn it.
"Leaving already?"
Sheila was just about to hit her limit for the night when she saw Sophia's husband, Ahmed staring back at her.
"Yes well, I have a lunch with some friends' tomorrow which I can't miss so I better get going, "
"Look I know I'm not exactly the kind of husband you had envisioned for Sophia, but I hope you realise that I have every intention of making her happy."
Sheila sighed, she could no longer hold it in anymore
"I don't doubt that you will make her happy, but you won't be able to keep her that way for long. I have nothing against you are a clever, educated, kind man but you are just too different. What will happen when Sophia wants you to meet her friends, their husbands whom you have nothing in common with since you didn't go to Atchison college? What happens when she wants to put your future children in LGS and you need to spent 150,000rs on school fees, 120,000,000rs for another car and 50,000rs on monthly petrol? What happens when Sophia wants to go for her weekly spa treatments to Aramaish or her vacations in Greece with her friends and you cannot pay for it out of your own pocket so she has to take on most of the house expenses? You see I don't doubt that you can make my granddaughter happy, she will be happy, but for a short time. Once she realises that you cannot give her the kind of life that she has been used to her entire life and once you realise the world of materialism and pomp she's apart of, you will both resent each other."
"She loves me and I love her, we would never resent each other, never betray each other," Ahmed replied confidently, trying to keep his anger at bay.
"Don't you think she loves me?" asked Sheila, not trying to hide tone of complacence-seeing Ahmed's confused expression she carried on, "my granddaughter loves me, yet she betrayed me the day she decided to marry you, if she can betray me, a woman who has been in her life for 25 years, a woman who was there the day she was born, the day she went for her first day at school, the day she got accepted into Stanford, then she can just as easily betray you."