The Perfect Murder: Article on Gujrat Riots by Farzana Versey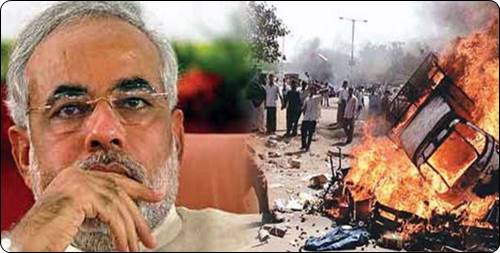 This research article was penned during India's Gujrat riots which resulted in hundreds of Muslims killed and unfolded Indian Government's negligence. 
Why did it take prime minister Atal Behari Vajpayee one month to visit Gujarat after the carnage, and less than a week to make a trip to Jammu and Kashmir following the terrorist attack on the Kaluchak security camp? I know what you will say: This is about cross-border terrorism. But that is what they said about Godhra and even Gujarat, this is what they say whenever there is a minor riot, when there is water shortage, an epidemic, or severe security lapses on our part.
And this is what they are saying when Abdul Gani Lone, the leader of the Hurriyat Conference, was killed. In fact, this time the media and politicians are calling it an assassination, a term that means the same thing, but has acquired a connotation that conveys the elimination of a respected leader. Hundreds of militants get killed; they are not said to be assassinated. So, when, how and why did the cold corpse of Mr. Lone start sending out such warm vibes? Pardon the insensitive use of language, but when even the PM of the country goes on a 'killing' spree, we are but ordinary citizens doomed to live with our flaws. Had this killing not taken place, Mr. Vajpayee would have had a major public relations problem. Now, it is a case of death be not proud, for the knight has come forth to humble you. The murder did not cast a shadow on the PM's trip, to borrow from one headline. Rather, it gave him the added ammo to fight our case with even more gusto.
While it is perfectly legitimate for the head of a country to prop up the morale of his troops, especially after they have had to suffer a recent misfortune that included their wives, mothers, children being gunned down, this is certainly not the time to tell them, "We must be prepared for sacrifices. Our goal is victory. It's time to wage a decisive battle." This was not a prime minister talking to the security forces, but a politician preparing for elections. And the words were not for the people of J & K, but for the rest of the country. For people like you and I who need constant diversion. In fact, he was making his 'Tryst with Destiny' speech when he stated, "Whether our neighbour understands it or not, whether the world takes note of it or not, history will recall that we will write a new chapter of victory…" It is another matter that no one is made privy either to how this chapter will be written or the PM's unbecoming gossip-mongering that "world opinion is on our side, but they are not saying so openly." These words do act as a patriotic palliative if they are followed with conniving decisions like, "Army begins gradual pullout from Gujarat". Of course, it has to.
After all, we have to fight an election. L.K.Advani commented, "I feel this is an attempt to prevent those elements who are inclined to participate in the Assembly elections". Which elements? Everyone knows about the low turnout at such polls. Besides, how involved would the Hurriyat itself be in an election process where the state machinery would be working against it? Lone was a terrorist from the outset. He made it clear that he had no truck with the Indian government. So, how on earth is he being deemed a moderate voice? Or do we have different standards for dead separatists, so that a cleavage can be created among those who will fight for the spoils of unsolicited martyrdom?
It has been reported that the PM was keen on breaking the ice on this trip. With whom? The fact is that there was a huge turnout at the rally to commemorate the memory of a slain terrorist. Does our government not get the message? And Lone himself was an important part of this rally. He was with the Hurriyat since its inception in 1993. How many times did our government sit and discuss issues with the "lone moderate voice" of Kashmir?
This brings us to that man for all fair weather, Dr. Farooque Abdullah. Today he talks about Lone's death being a serious blow to the peace process in the Valley. When did he last talk about bringing peace with the Hurriyat? Has he even bothered about the situation in his State? What would have been the equation with the APHC in the event of an election, that is if he allowed the Hurriyat to contest? If, as the good doctor says, Islamabad was curbing all voices that support peace in Kashmir, does it not strike him that considering he keeps mouthing clichés of 'aman', he himself ought to have been a prime target? And if he knew about the threat to Lone, why did he cut down his security by half?
Why is the Central government, of who he is an ally, not questioning him for being partly responsible for the murder of their late lamented 'moderate' voice?
Because that kind of thing does not bolster our national ego. For that we need to bring in the Pakistani government. It is true that President Musharraf has to keep his constituency in mind, a constituency that has been fed on a diet of Kashmiri starvation. But being so obviously the usual suspect and with the attention of the West focused entirely on him and his country, would his government dare? Besides, although the Hurriyat was adamant about an individual Kashmiriat identity, its leaders were keen to meet Musharraf on his visit to India.
The other suspects are the Pakistan-based jihadi groups. Some people at the Idgah rally were shouting pro-Pak slogans, but does anyone know who they were? Also, isn't it unusual that no one has claimed responsibility for the killing, as against their past record of rushing to do so? While many of them do have a grouse against their President for his 'crackdown', they are well aware that on the subject of Kashmir political expediency will prevail. Then there is also the minor fact that there was a time when Lone did support the Taliban, as they do, and is said to have hoped they would help liberate Kashmir from the Indian yoke.
What about the other radical militant groups in Kashmir? They are too scattered, and do not truly have any locus standi. They may not have agreed with the Hurriyat's modus operandi, but they would be foolish to do away with someone who could speak as the voice of the State. Lone would have worked at least at the level of a totem that they could use to make contrarian points. And one more thing: Only dumb militant outfits all set to plan a killing would sprinkle verbal gunpowder around to reveal their intentions.
Therefore, the question ought to be, 'Why was Abdul Gani Lone killed?' not "Who killed Lone?'. As he himself had once said, "Anybody and everybody can kill me taking advantage of the situation prevailing in Kashmir today wherein many guns work at the same time."
Dead men seem to know best.