The Story of Fashion Designer Mehmood Bhatti – By Nadia Butt
Fashion Designer and Ravian Mehmood Bhatti: Story of his Life, Fashion Industry and Net Worth now
The popular opinion is that Government College has produced writers, bureaucrats, scientists, politicians, teachers, philosophers or sportsmen but you will be surprised to know that Government College has also produced the famous international fashion guru of the world! The very idea of a young Pakistani GC graduate making his haute couture in Paris will make you sit up.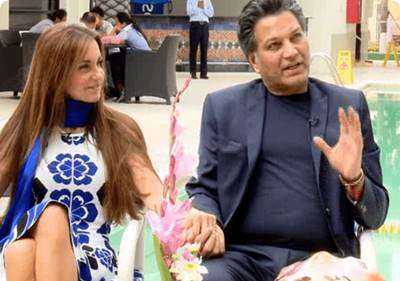 Mehmud Bhatti, the world's most celebrated ladies ' dress designer, is a living legend of success. Presently he is not only the key designer in Paris but at the same time acting as the Honorary Investment Counsellor in Pakistan Embassy France. With his offices in Europe, America, Asia and the Middle East, Bhatti has been ruling the international fashion industry for almost two decades. His rags-to- riches story has inspired a Parisian to write a book on his life-history entitled, "Bhatti — Du Pakistan au Sentier. " Two movies have already been made on this celebrated book. In the third version Bhatti himself is going to play his title role. The Urdu translation of the book will be in the market this year.
Born in Lahore, Bhatti graduated from Government College Lahore in 1977. As he was without a family here, he decided to try his luck in foreign territories. It was the beginning of a very tough life. He describes his early experiences in Paris; how he would sleep in the underground Metro when it got too cold on the benches at his first job as a sweeper. It was not until he got a job as a salesman in a ladies' garment store that things started brightening up. Fortunately, his looks and manners not only multiplied the female customers but also made him popular among all his clients. At that time he learned the art of ladies' dress designing. "Women have played a vital role in introducing and goading me to fashion designing…I must say 1 also owe my fluency in French to women! '' says Bhatti with a smile. After one and a half year at this job, he set up his own office in 1980 in the heart of Paris. In no time the business boomed and his dresses became ladies' first choice. Now after spending twenty-six years in dress designing Bhatti is a symbol of quality and excellence.
He is a self-made man. Without having any professional training in a fashion school, he is internationally recognised as the best dress designer. "I think my position as a salesman of ladies ' garments made way to designing as a career. Had I been driving taxies in the beginning, I might have chosen to be a taxi driver. Everything in life is a matter of chance and fate… I always thank my stars" replies Bhatti while expressing his faith in God's will. He has never followed a popular designer in the history of his brilliant career. His creative instinct and keen observation are the real forces behind all his magnificent creations.
"I keep in mind the latest trends before signing anything. But I feel the greatest challenge is to be a trendsetter. I'm in the habit of observing it very critically, especially the way they carry themselves and move about or every Saturday to go to one of my shops, sit there and watch what women buy. In this way I get inspiration for my fashion collections since in my profession you'll have to be innovative at every stage. In the Western world you cannot copy others and in fact I always like to be different which is probably one of the reasons behind my world wide popularity"
His recent designation as the only investment counsellor is the hallmark of his career.  It is fascinating to go through a huge collection of newspapers with his full portrait on the first page. He is invited to the best French TV programmes in which eminent journalist scholars, actors and designers are given complete coverage. His detailed profile has been recently published in "Paris March" , France's most widely read magazine.
Bhatti has held two fashion shows in Pakistan, with success. He regrets double standards. "My skirts are most popular in the Arab word. Under the veils, Arab women always clad in the best western clothes. However, in Pakistan there is no concept beyond Shalwar Kameez, which I do not consider dress
Bhatti has succeeded in making a fortune for himself with exemplary hard work commitment and dedication. Today he is best known among France's 5000 designers, he continues working long hours, from 8 am to 8 pm daily. For Pakistanis Bhatti is a designer turned humanitarian. His National Defence Hospital is one of the few hospitals in our country, which offers international quality medical treatment. For the poor he has ordered free heart surgery. Every year he offers ten scholarships to the National College of Arts and five to the Fine Arts Department of the University of the Punjab to help the needy students. Now he plans to arrange a fashion show to raise fund for the SOS children.
When asked to give a message to the students of his alma mater he said, "Life is a struggle, an endless struggle …each day is a new challenge, who ever reconciles with this fact is bound to succeed. Whatever I am today, call me famous, rich, influential, renowned…all because of hard work, spill your sweat and blood and no power in the world can stop you from achieving your goals. "
After spending twenty-two years in Paris, Bhatti has bagged the highest honours in his field and has a estimated Net Worth in north of 2 Million Euros. He has become a role model for those who have to start their life from scratch. In the future he will continue breaking new grounds in the fashion world and keep ruling the heart of his admirers.