The Street Fighter – By M.Murtaza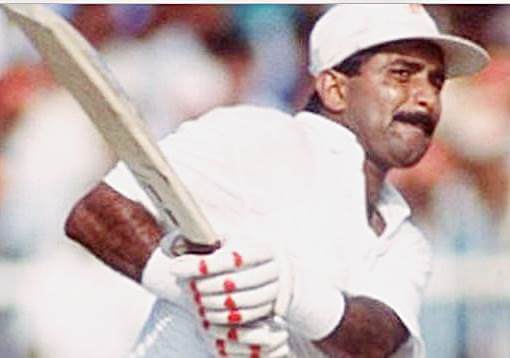 It is a typical Pakistani household. A 7 year old is watching the TV screen very intently. He is watching a cricket game. The date is October 9, 1976. The venue is Lahore, Pakistan. It's the first day of a test match between Pakistan and New Zealand. Pakistan is batting. The score is 44/3. Out walks a young man looking upwards at the sun. He is short and thin. He takes long strides, keeps rolling his right arm around with bat in hand-then the left. Then holding the bat in both hands he turns his upper body sideways-all the time striding towards the pitch. The camera closes in…a cool, calm look. A thick mustache and flowing hair. The face…a common Pakistani face, nothing charismatic, yet energetic. He rolls his alert eyes a bit. Then that staring at the sun again. The 7 year old starts mimicking the young man's moves. After 20 odd years the 7 year old will understand why the young man stared at the sun. He was absorbing the energy to power himself with the intensity, the passion and the explosiveness needed to become the best. This guy could stare at the sun because only he was worthy. Over the next 20 years this man would dominate Pakistan cricket and yet never want the credit for transforming Pakistan from talented underachievers to never-say-die cornered tigers. Right there and then on that day in 1976 many 7 year olds became Pakistanis. Patriotic fervor was forever transfused in their veins. The young man had made fans for life. One such 7 year old is the author of this article in 1997. The young man's name…Javed Miandad.
Javed's debut was fantastic. Against Richard Hadlee and the New Zealanders, he got 504 runs in just 5 innings, with a double century that still has him in the history books as the youngest double century maker. He got 163 in his maiden innings and set the tone for an outstanding career. His talent with the bat was obvious but there was something else that caught the eye. Something intangible and unexplainable, yet you knew it was there. Immense self confidence or this aura of invincibility or whatever you want to call it, Miandad portrayed to his crowd and his team mates an assurity that he could be depended on. The arrogance of youth was pretty obvious as he smashed three consecutive fours off Richard Collinge to get to his maiden hundred. When he retired from international cricket his test record read
M I NO Runs HS Ave 100 50 Ct St Batting 124 189 21 8832 280\\* 52.57 23 43 93 1 Balls M R W Ave Best 5 10 SR Econ Bowling 1470 32 682 17 40.11 3-74 – – 86.4 2.78
He had a distinction that no other batsman can match. Never once in his career did his average fall below 50. Never…ever. He was Mr. Consistency. But it's not the number of runs he scored but it's the way he scored them. As I look back at Pakistan cricket growing up, all I can remember is Javed walking in at 7 for 2 or 5 for 2…the batting in tatters, the opposition on top and that cool, calm and confident smile. Javed personified all that is good about Pakistan Cricket and in many ways is responsible for forming or shaping Pakistan cricket into what it is today.
Javed's remarkable performances are numerous. Any famous win that Pakistan boasted of, during his career, featured him prominently. When Pakistan beat India in Lahore, with Imran hitting those sixes off Bedhi chasing a stiff target in a short time, Miandad was the one at the other end running like a hare and pushing singles all the time. His contribution was 62 (100 in the first innings) out of the 164 they needed to chase in 24.5 overs. He was the one running madly off the field waving his bat to celebrate the famous series win. When Mohsin hit that double hundred at Lords and the second innings required a quick chase, he was the one who opened with Mohsin to knock off the required runs to earn a ten wicket win. When India came to Pakistan in 82-83 for a six test series, he was invincible. His 280n.o. in the Hyderabad win was his highest total. People say he was unlucky and that Imran should have let him go for that 365 of Sobers. I have never heard Miandad complain about that. When Pakistan beat India in India for the first time in 86-87, he was the focus of the Indian bowlers and umpires. He saved the second test with a 63n.o. on the last day before Pakistan took the last test to win the series 1-0. Many people doubted his talents against fast bowling. This criticism was laid to rest in the 87-88 series in the West Indies. He got a hundred in the first test enroute to a 10 wicket victory. He got a hundred in the second test in a valiant chase for victory which ended in a thrilling draw. The last test was marred by bad umpiring but his invaluable contributions in that test as well, proved his all round prowess as a world class batsman. He dominated the 88-89 series against Australia in Pakistan, which Pakistan won 1-0, with a double hundred in the first test followed by a hundred in the second. The 2-1 series win in England, under his captaincy, featured a hundred and a couple of 50+ knocks alongwith astute leadership. In 87 under Imran, Pakistan beat England in England for the first time with Miandad silencing his English critics by getting a 260 in the last test. He was always New Zealand's nemesis after that first series and relentlessly accumulated big numbers against them, including a 271. He scored a double century against every test playing nation apart from the West Indies.
Though his test contributions are tremendous, Miandad became a hero of Pakistan cricket via his one-day exploits. His record read
M I NO Runs HS Ave 100 50 Ct St Batting 233 218 41 7381 119\\* 41.70 8 50 71 2 Balls M R W Ave Best 4w 5w SR Econ Bowling 436 3 297 7 42.42 2-22 – – 62.2 4.08
His one-day record emphasizes the fact that he was an all round cricketer. Whether you needed fast runs or somebody to stick it out, he was there. His fielding and running between the wickets were always a treat to watch. During Javed's career Pakistan won a lot of One day tournaments climaxing in the 1992 World Cup win but it all started in the Spring of 1986 in Sharjah. Pakistan had never won a tournament before that day and it was not because they had not come close. A prime example was that 1 wicket loss to the West Indians in the 1975 world cup (Miandad played as a bowler) when they let the last wicket score 60 odd runs. The team did not believe in themselves. They did not believe they could win. All of this was before that six at Sharjah in 1986 that reverberated across the subcontinent for so many years. I vividly remember getting ready to watch the game in the morning. I had a Physics final the next day. I was giving my Intermediate examinations. In Pakistan, your grades in your Intermediates pretty much determine your career. Ofcourse I had a Physics book in my hand but I was glued to the tube. My mother was yelling at me for wasting my time, my father was not too happy either. My brothers were just laughing at me since my parents were mad. Soon after the lunch and Jumma break all of the above were glued to the tube with me! India had batted first and scored 245 runs with Wasim, Imran and Qadir bowing well. Pakistan started steadily but kept losing wickets at regular intervals. Mohsin, Mudassar, Ramiz and Malik had perished. Qadir played a cameo but got out as well. So did Imran. In the final overs the required run rate was around ten. Miandad was in total command at one end. He hit a mammoth six off Madan Lal. It went out of the stadium. He danced down the pitch and hit it as if he was playing a spinner. I remember him sweeping Kapil Dev to fine leg. He kept the score board ticking throughout. Pakistan required 11 to win off Chetan Sharma's final over. On the fourth ball of the over Zulqarnain was bowled playing a wild shot. The anger on Miandad's face was obvious. He told Zulqarnain that he should have just took a single to let him get the strike. The last man in was Tauseef. He nudged the penultimate ball to cover and ran. Azharuddin picked the ball up cleanly and gently lobbed the ball at the stumps. Had the ball hit the stumps Tauseef would have been gone. Azhar missed. You could see agony written all over Azhar's face but I guess even the best of them lose it under pressure. Not Javed though. He was on strike with 4 to win off the last ball. A normal player would have been wiping his brow or biting his lips. What was Miandad doing? He was surveying the field counting the players. Checking to see if there were 4 inside the circle, less than 3 behind the square leg umpire on the leg side etc. His mind was working. Chetan came in to bowl amid a roar from the crowd…a waist high full toss…Miandad swung it towards midwicket…his hands immediately went up and he started running…Binney at the midwicket fence looked skyward…and Mushtaq's (expert commentator) scream, "It's a SSSIIIIIIIXXXXXX!!". This six took Pakistan to a new level in cricket. India would not beat Pakistan in a oneday game for a long long time in Sharjah. About 100 million people jumped up in Pakistan at the same time. It was registered on the Richter scale! This was more than just another one-day win. Miandad had forever changed the course of Pakistan's cricket history. I will never forget him running madly with his bat in his right hand. That scene is forever etched in my brain. He ended up scoring 116 not out to take Pakistan to 248/9. In my opinion, the best ever one-day innings played in terms of pressure and impact. He walked out to take the man of the match award. Tears kept rolling down his cheeks as he kept on smiling. He was humbled. When Imran lifted that cup Miandad beamed. His contagious smile affixed on every Pakistani's face. He had plotted a new course. Pakistan would go on to win the Nehru Cup in India and the next few Sharjah Tournaments. Miandad would score 8 consecutive one day half centuries. As my friend Mohsin Ansari\\* explains,
"15 years from now, a young college freshman will be sitting at a computer terminal and will come across a scorecard of a match. He'll find one of Miandad's eight one-day centuries, and maybe, if he is diligent enough he'll find a footnote at the bottom saying that Miandad hits a six off the last ball to win the match. Intrigued, he will pull up the match report and find some glib journalist trying to capture the gripping drama and tension that you and I felt firsthand that day. Maybe, the journalist will do a good job leading the freshman to remark, "Wow, what a match, I wish I could have been there". And that's it. Logout. Go home. But is that really it? Is that all that this match was, and this six in particular? Well I certainly don't think so. Isn't it true that this one hit would impact the India-Pakistan one-day equation for the rest of the decade and even beyond? Isn't it true that this was not just a ball getting whacked over the boundary, but a man shaking the self-confidence and hopes of an entire nation, while giving another nation a promise of bigger and better things to come? Isn't it true that before this six, India would whip Pakistan in any neutral or non-neutral ground as a routine matter, but after that, just could not find a way to beat them even in India. Not till long ago, and sometimes even now, every time these two teams would step onto a field and India would get into a winning position, somehow, from some unknown place, the ghost of that one fateful Sharjah afternoon would come back to haunt them".
Miandad has played in all the world cups to date. He is the highest scorer in world cups as well. Pakistan probably had the best team in the 87 World Cup at home but they won the 92 World Cup in Australia. Imran was center stage on that occasion too but Miandad was on-stage with his performances once again being exemplary. He was left out of the side before the Cup, claiming that he had dropped out or that he was out of form. I can't remember which one was stated. After Saeed Anwar pulled a groin muscle, Miandad was recalled. As Umair Khan\\*\\* relates,
"In the 1992 world cup, in the semifinal against New Zealand, everyone remembers Inzamam's 60 off 37 balls that saw Pakistan through to the final. Miandad was not out at the day's end at 57. In the final, everyone remembers Akram's dismissals of Lamb and Lewis. Coming in at 24/2 in 9 overs, Miandad, with Imran, took Pakistan to 163/2 in 39 overs. Cramps forced him to hit out [and get out] when at 59".
I remember after winning that final everyone was celebrating. Imran and Miandad's rivalry was known openly. Everyone knew they didn't see eye to eye. I saw Miandad approaching Imran and patting him on the shoulder. Visibly annoyed Imran swiveled around. As Imran realized it was Javed, a huge smile came on his face and they hugged. That was the best moment of the '92 World Cup for me. Miandad always put his team before his own self. He was selfless. Quoting Mohsin Ansari\\* again,
"There were players before Javed with numbers better than him, and as long as the game is played, there will be players in the future with better numbers. But only a few special will leave an impression on the game as big as he left behind. Javed Miandad is much bigger than his numbers;the whole is more than the sum of parts! Not that his numbers are anything to be ashamed of. But the legend goes beyond that. Miandad is an attitude, Miandad is an inspiration. He is the blue-collar approach to cricket and his legend stems not from his glorious numbers, but from the love and admiration of millions of fans worldwide, and their belief that this guy was something special. And NOBODY, I repeat NOBODY, can take that away from him!"
There were so many intangibles to go with his great stats. I guess one of the earliest memories that I have of Javed is in Australia. Rodney Hogg was batting. Hogg played a ball to point where Javed was standing. The ball rolled to Javed and came to a halt a few yards before Javed as he walked towards it. Hogg left his crease to do a little bit of gardening on the pitch. Javed picked the ball up and tippee toed upto the wicket, without attracting Hogg's attention, and removed the bails. The umpire ofcourse gave Hogg out and Hogg, out of frustration and disgust, smashed the stumps and left. Mushtaq, the captain, asked Hogg to come back. Miandad was always cheeky. He was very competitive. He never lost hope. His energy and will to win never diminished. I remember that after Imran's retirement in 1992, he captained Pakistan to New Zealand for a one-off test. In the last innings, New Zealand had to chase around 127 to win and they were coasting at 80 odd for 3. Any normal player or captain would have lost hope. Most of our bowlers were dejected and were looking for a miracle. Andrew Jones played a ball gently to square leg where Miandad was standing. The ball trickled to him and Miandad advanced towards it. The nonstriker was a bit out of his crease and Miandad went towards the ball with a motion that was threatening to throw the wickets down at the nonstriker end. The nonstriker was alert and Miandad knew that. He picked up the ball and balanced perfectly to throw it at the nonstriker when suddenly at the last fraction of a second his arm changed direction and threw the ball at the batting end. Jones, a couple of paces outside his crease, along with the rest of the players and viewers was watching the nonstriker. The throw stunned everybody. Jones froze. The ball missed the one stump that Miandad had to aim by inches and he held onto his floppy hat like he always did after a close shave. Everybody on the Pakistan squad realized that this man had not given up hope, that his mind was still working. The New Zealanders realized that this match was not over yet. The Pakistanis got a wakeup call, a boost of energy. They bowled out New Zealand soon after for 93 and won the game. This particular incident will never be recorded in a stat in a score book. Only those who played and those who watched will remember it forever. I remember Richie Benaud once relating a story about watching Miandad bat in a county game. The field was spread out and the spinners were on. Miandad was getting singles easily but no boundaries as the field was spread. Suddenly, Miandad became uncomfortable against the spinners. There were a few balls that popped up at catchable height near the bat. He got a few edges. The captain and the bowler got encouraged and brought the field up and crowded Javed. As soon as that happened, he belted a few boundaries and got some quick runs. Richie relates that it was obvious that Javed was playing with the minds of the opposition. In a test series in Australia, Javed had an altercation with Dennis Lillee. Miandad had clipped the ball towards square leg and was running hard, intent on getting two runs. Lillee was standing on the side of the pitch at the end of his follow through blocking Miandad's way. Since Miandad was concentrating on the fielder he did not see Lillee blocking his way till he hit him. Javed pushed Lillee aside. The reaction from Lillee was that he kicked Miandad. Javed got enraged and lifted his bat to scare him as Lillee hid behind the umpire who came to calm the situation down. It was all over the news the next day and Miandad was portrayed as an out of control madman on the field by the biased journalists. But Miandad had made his point. He had changed that attitude of low self esteem that we used to have. He had made the world recognize that the Pakistanis will not bow down to anybody. This was made evident in an Ashes match in England afterwards, where an Australian bowler did a similar sort of a thing to an Englishman. The commentators commented that the Australians better not do this on the upcoming tour of the Pakistanis to Australia. I could go on and on with these stories but the best one is the one that I heard during the World Cup of 1992. Viv Richards is regarded by most as the greatest batsman ever. Having retired by that time Viv was in the commentary booth in a West Indies – Australia game. He was asked a hypothetical question about who he thought was the best batsman. Vivian Richards said that if there ever came a time when he had to bet his life on a batsman, he would bet on Javed Miandad!
Javed has been lucky in a lot of respects but he has been very unlucky too. Captaincy is one example. I always thought that his was the best cricketing mind. When he was made captain of the Pakistan team the first time, he was too young. The seniors in the team with inflated egos in the Kerry Packer era refused to play under him. He stepped aside. Miandad took over the captaincy whenever Imran got hurt and did a great job. When Imran came back, Miandad stepped aside knowing that Imran was the crowd favorite. He didn't want to create a rift. The team was more important. He stated his personal batting performances as captain to be the reason and handed the reigns over to Imran. When Imran retired, Miandad was made captain. He won both the test series that were played during his reign against New Zealand and England. He was later removed from captaincy because of the team's performance in a one day tournament stating that Wasim was the captain of the future. In my opinion, they either should not have made him the captain when Imran retired, if rebuilding was the idea, and if not, then they should have persisted with him till he retired. He never got the respect he deserved as a cricketing mind. Even after all that he had to go through his record as a skipper is
Matches Won Lost 34 14 6
which is better(win percentage) than Imran and Mushtaq Muhammad.His first instinct was always to lead and teach. I remember in a recent England vs India series Miandad tutoring the Indian batsman how to play in English conditions at one of their practice sessions. Ganguly and Tendulkar scored heavily in the next test. Considering how much the Indian crowd hated Miandad, I thought this was a great gesture from a great man. I think his services should be immediately sought by the Pakistan Cricket Board to coach the Under 19s or 23s. Javed's great following is probably because his qualities are not restricted to cricket but are aspired by people in all walks of life. Qualities that only a few champions possess. A case in point being a recent news article that mentioned that Javed is the highest tax payer in Pakistan, though we all know there are many wealthier land lords and industrialists in our country. This man's talent must not go to waste.
Javed's last international match was in Bangalore, India. It was a World Cup(1996) Quarterfinal against India. Another pressure cooker situation. Miandad had come back after a layoff of two years and it was obvious that his batting was not at its best but even then he had stuck it out and a bowler had not got him out in the tournament. Once regarded as the best runner between the wickets, ironically, Miandad got run out in his last game that Pakistan lost eventually. I was overwhelmed as I saw my hero walking off the field. Javed was disappointed that he was not able to pull his team out of yet another difficult situation. The Indian crowd knew that this was Miandad's last game. They still remembered that six in Sharjah that reverberated in the Subcontinent for 10 years. They knew that they will never see Miandad again so they wanted to leave him with a memory he probably will never forget. I know I will not. The crowd booed my hero off the field. He was still very gracious. Lifted his bat gently, kept his eyes to the ground and simply walked off into the pavilion. An era had ended and instead of a hero's goodbye, Javed Miandad was booed off the field. I will never forgive the Indian crowd for that. I might forgive them for Kashmir and I might even forgive them for breaking up my nation but I will never ever forgive them for booing my hero. Then he came back home, where I thought he would be welcomed appropriately. But the hoopla of a loss to India had taken over and Miandad's retirement got lost in the middle somewhere. Nobody even mentioned it much. To this date there is no documentary on Javed. If you are looking for a happy ending then don't…this is not an American tale, it's a Pakistani one.
I thank God for giving me the privilege to have been conscious in an era where I could see Javed bat. I am one of the lucky ones who has played the game at a decent enough level to understand and realize the extent of his achievements. Playing cricket or any other sport at the highest level teaches you a lot about life in general. The ups and downs, and how to learn from them to get better and come out stronger the next time. And the stories…don't forget the stories. Whenever you sit down with a cricketer, he has tons of stories to tell. And they are always interesting, grandiose and totally inspiring. That is one thing I have from cricket…stories. So, one day when I am old and haggard, with a flock of little guys and dolls gathered around me in a circle, I will have interesting tales to tell. And one day, if they are lucky, I will narrate the greatest tale that I know. They will say, "Grandpa, tell us that story again". And I will say, "OK kids…listen carefully. It all started when I was 7 years old. This is the story of a great man, the ultimate warrior, my hero…I call him the Pakistani Street Fighter…".