Pakistan Writers Club marks Independence Day
PWC Members Mark Independence Day with Online Poetry Recitation: By Aymen Zaheer
Pakistan Writers Club aka: PWC and it's Ladies Chapter aka: PWC-LC hosted an online Mushaira (Poetry Recitation Session) to mark the 74th Independence Day Anniversary Celebrations on August 14.
Mushaira or Poetry recitation session is an annual featured program of the PWC and its Ladies Chapter to spread the universal message of brotherhood, unity, faith, discipline, and patriotism for the country through their poetry works.
H.E. Khayyam Akbar (former Ambassador in Spain) and H.E. Manzoor-ul-Haq – the former Ambassadors in Saudi Arabia – were the joint Chief Guests of the program.
President of the Aalami Urdu Markaz Athar Abbasi presided over the event as Sadr-e-Mushaira.
The event was kicked-off by Ms. Ambreen Faiz (Senior member) and Yousuf Ali Yousuf (General Secretary) conducted the Mushaira segment of the event.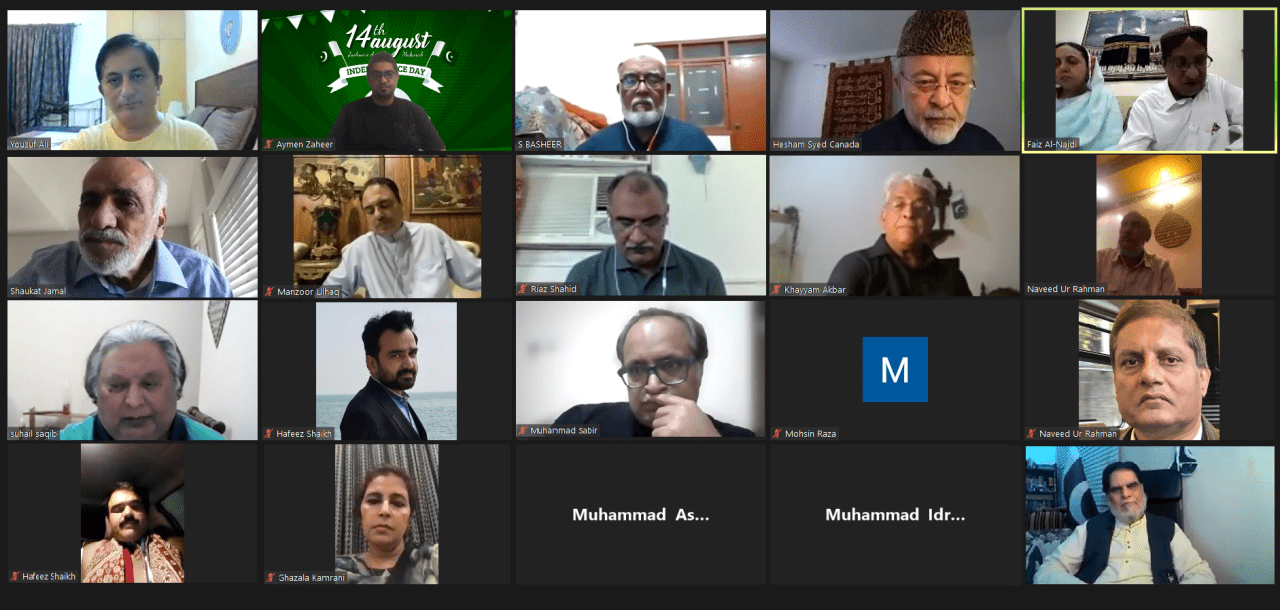 The program was well attended by the featured poets from Saudi Arabia, Pakistan, Bahrain, and Canada.
The event commenced with the recitation from the Holy Qur'an by Zubair Bhatti and a melodious Naat rendition by Naveed-ur- Rehman – the incumbent President of PWC and its Ladies Chapter.
National Anthem was played in the beginning of the program and a motivational and a recorded speech of Quaid-e-Azam was also relayed.
Faiz Al-Najdi, Patron-in-Chief PWC – touched base on the purpose of this get-together and shared a brief history of the PWC and Ladies Chapter. He informed that it has been a tradition of PWC to host a Mushaira to mark the Independence Day. He also added that PWC is the only Literary & Social Organization in Saudi Arabia that organizes such a gathering in which not only Urdu poets but poets from our regional languages are also invited to present their poetry works. "Our regional languages also enjoy our respect which are mother tongues of our compatriots from various provinces and we honor them by inviting the poets of these regional languages to participate in our Annual Mushaira, "Najdi remarked. Najdi spoke very high of both the former Ambassadors – Excellency Manzoor Ul Haq and Excellency Khayyam Akbar. "Excellency Manzoor had always remained focused to the problems of the community and that's the reason he was very popular among the community. He was rightly titled as Peoples Ambassador. "Najdi remarked.
Najdi also praised Excellency Khayyam for his sincerity of purpose during his stint in Saudi Arabia as the Deputy Head of the Mission. In this connection he cited from a real-life anecdote about how he helped a Pakistani student (son of Poet Sadaf Farid) who had lost his passport with Saudi exit-reentry visa in Kieve-Ukraine – during the Soviet annexation of Crimea. Ambassador Khayyam not only arranged to get him a new passport but also helped him with Saudi exit-reentry visa which came as a great help that enabled the young student to travel back to join his parents in Riyadh
The segments of the Mushaira began with the opening liners from Yusuf Ali Yusuf 0 the General Secretary of PWC.
Hafeez Sheikh – a noted Sindhi poet from Riyadh – presented various quatrains from the Sindhi language. He also added couplets from Urdu especially the lines from the popular patriotic songs. He won appreciations from all.
Sabir Amani – a noted poet of Urdu and Punjabi languages – joined in to present his impressive poetry works in Punjabi Language and won applause..
Dr. Farah Nadia – Convener PWC Ladies Chapter – presented her piece of beautiful couplet which was liked by the audience at large.
Ms. Ghazala Kamrani a resident from Dammam joined from Karachi where she is currently stranded in. She presented some of her popular poetry lines which were appreciated by all.
Mohsin Raza enthralled the audience with some of his quality quatrains and won applause too.
Riaz Shahid joined from Bahrain. He won applause with beautiful rendition of his poetry verses.
Suhail Saqib – a noted poet from Dammam – expressed his feelings for the country via his poetry lines – in his usual impressive style.
Engr. Hesham Syed joined from Canada. He is a noted poet who once also lived in Saudi Arabia for a long time. His poetry lines had a unique touch of patriotism and love for Pakistan which was applauded & appreciated by all.
Shaukat Jamal also joined from Canada. He is a noted droll & humor poet who also once lived in Saudi Arabia for a long time. His poetry rendition was appreciated by all.
Athar Abbasi is a noted personality among the Urdu poets in Saudi Arabia.  He was the Sadr-e-Mushaira – that is the Head of the Poetry Session. He presented his poetry lines especially prepared for the occasion. He was very appreciative of PWC and its leadership for organizing a Mushaira to mark the Independence Day. He was also thankful to PWC and its leadership for inviting him and according him the status of Sadr-e-Mushaira.
In the closing segments of the event, H.E. Khayyam Akbar – former Deputy Head of Mission in Saudi Arabia and former Ambassador in Spain wherefrom he also retired recently – extended his congratulations to the members of PWC and its Ladies Chapter for their literary work and for arranging such a nice literary event on the occasion of Independence Day. "14th of August is the day of paramount importance for every Pakistani as this beautiful country of ours was founded with immense sacrifices, "Khayyam mentioned. He also mentioned that his both parents were also  literary persons and that his father was himself a poet of good standing also.
H.E. Manzoor-ul-Haq – extended his heartiest congratulations to all the participating poets and the audience on the country's 74th Independence Day Anniversary. He paid huge homage to our  great leader Muhammad Ali Jinnah for his stupendous efforts in creation of this beautiful country of ours. He had words of thanks for Najdi for inviting him to the event. He praised Yousuf's unique style of hosting the Mushaira. He also appreciated the selfless services of H.E. Khayyam Akbar during his tenure as a Deputy Head of the Mission in Saudi Arabia.
President PWC Naveed-ur-Rehman thanked both the joint Chief Guests for patronizing the program on the Pakistan Independence Day. He concluded the session by thanking the participating poets, journalists, and audience.
Memento shield was awarded to the Deputy General Secretary and PRO PWC Aymen Zaheer – for his timeless services for the Club. The program ended on a happy note.
Aymen Zaheer is a Deputy General Secretary & PRO of Pakistan Writers Club. He can be reached at aymen.zaheer at gmail.com