The Other Side Of Lyari – By Zahabia Khozema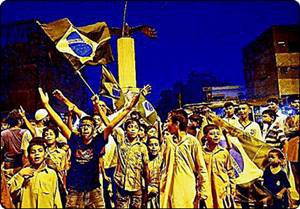 The Other Side Of Lyari – By Zahabia Khozema
The town of Lyari is one of the most infamous towns in Pakistan. Famous for its gang wars, the town has been plagued by violence since years. Following Ranger's Military Operation of Lyari, peace prevails largely and bloodshed has diminished , yet the notoriety of place still stands. The fact is that there is much more to Lyari than events of brutality and savagery. This town got poisoned by gang wars and proxy wars 15 years ago, however before year 2000 Lyari was a peaceful, prospering and a very influential part of Pakistan's mega metropolis, Karachi.
Lyari is one of the 18th constituent towns of Karachi and the smallest town by area. It derives its name from the river Lyari which used to flow through that area into the Arabian Sea. Its riverbed extended from Lalukhet (present Liaquatabad) to the Port. There were two large watercourses for rainwater storage which was later transformed into a river. Between the two courses there existed twenty to twenty five fisher folk's huts. The spot was then called Dirbo. Later, this place was given another name "Kalachi-jo-Goth" meaning "the village of Kalachi".
Lyari's first residents were Sindhi fishermen and Baloch nomads from Makran, Lasbela and Kalat districts, fleeing drought and tribal feuds. These people were Afro-Indian/Pakistanis known as Sheedis. The Sheedis are believed to be the descendants of slaves, sailors, servants and merchants from East Africa who arrived between 1200 and 1900 AD. These slaves largely settled in lower Sindh and along the Makran Coast in Balochistan thus, getting the name Makranis as well.
The first wave of settlement occurred around 1725, a few years before Sindhi banyas (the Hindu trading class) settled in Karachi and committed to expand it. A second wave of Baloch settlers arrived around 1770, when Karachi came under the control of the Khan of Kalat, following an accord between the Khan and the Kalhoro rulers of Sindh. A third wave of Baloch migration took place after 1795, following the annexation of the city by the Talpur rulers of Sindh, which attracted Baloch tribesmen from interior Sindh and the Seraiki belt.
In the second half of the 19th century, the British occupation of Sindh and the modernization of Karachi's port, brought to Karachi a number of Baloch settlers from the Iranian part of Balochistan, most of whom settled on the banks of the Lyari River. Today, these Irani- Balochi  constitute the largest share of Lyari's Baloch population.
Lyari has been an important locality in the past. Today Sindhi elite traces its origin to Lyari, all powerful and wealthy hailed from this part. Lyari has remained an important landmark during pre-partition politics. It has been a hotbed for many movements like Anti-imperialist campaign,  Anti-colonial movement , Quit-India Movement, The Khilafat Tehrik, and the Tehrik Reshmi Romal movement.  Similarly, many renowned political leaders of India have addressed this  political constituency quite a lot. Among those who addressed public meetings in Lyari included Pandit Moti Lal Nehru, Gandhi Ji, Patel , Quaid-i-Azam, Sardar Abdur Rab Nishtar, Khan Abdul Ghaffar Khan, G.M. Syed, Wali Khan, Mir Ghous Bakhsh Bizenjo, Sardar Ataullah Mengal, Nawab Akbar Bugti, Nawab Khair Bakhsh Marri, Zulfiqar Ali Bhutto and Benazir Bhutto.
Back then Lyari had the image of a tolerant society where no one was discriminated on religious, sect or racial basis. There were offices of almost all parties , be it the Indian National Congress, All Indian Muslim League or Jamiat Ulema-i-Hind.
The vast range of different cultures and religions has given the area a unique identity. Majority of its residents have African lineage which they are very proud of. This particular lineage has brought class politics, spirituality, aesthetics and a beautiful mixture of customs and traditions.
The religion which these people practice adds to the novelty of the area. A majority of Makranis belong to the Sunni 'Barelvi' school of faith,  an indigenous sub-continental variation of 'folk Islam' that emerged in the 18th century. Barelvi Islam is not a religion with concrete doctrine but is highly decentralized and anti-dogma. This particular faith is a mixture of sub-continental folk culture and Sufi Islam which promotes the culture of devotional music, charity and festivity found around shrines of Sufi saints across Pakistan and India.
One of the first areas other than the  privileged populace of Karachi to adopt of classical American and European disco music of the late 1970s was Lyari. Between the late 1970s and 1990s Lyari also produced its own genre of music, popularly known as "Lyari disco". Shazia Khushk's contribution for the development and propagation of this genre is marvelous. The song "Bija Teer Bija",  recorded at a Lyari studio and released in 1988, was a tribute to the charismatic chairperson of the Pakistan People's Party (PPP), Benazir Bhutto. The song was first used by the PPP during its electoral campaign for the 1988's general elections.
Moreover, Lyari has produced some international level boxers and footballers. This is probably that part of the country where these two sports dominate cricket. Pakistan's only boxing medal in Olympics, up till now, has been won by Hussain Shah who grew up in the slums of Lyari during 60s and became a legend. And there are many like Hussain who are training hard with their immensely talented coaches , have won some international boxing competitions and aspire to bring an Olympics medal home next year.
Football is woven in the very fabric of Lyari, some even call it mini-Brazil. It is famous for Lyari that during Fifa tournament, political and gang tension cools down in the area. Multiple football competitions and leagues are orchestrated every year. When it comes to football, Lyari in far ahead than remaining country. Many of the international feats won by Pakistan's football team and its individual players owe their success to Lyari.
The arrest and encounter of Lyari's gang leaders in the beginning of this decade marked the betterment in the affairs of Lyari. Since then Lyari seems to move forward in the right direction. A number of NGOs and Welfare organizations are working for the educational upliftment of its natives. Lyari's outlook has begun to change. Different conferences are being held country-wide to promote peace and productive activities in the area. Lyari is on its path to reclaim its lost glory, let's see what becomes of it!