Sahir Ludhhianvi – A Gem of a Poet (1921-1980)
Sahir Ludhhianvi – A Gem of a Poet (1921-1980)
Abdul Hayee famous for his pen name 'Sahir' gave us the perfect blend of romance and revolution through his poetry. His words resonated with people from a range of diverse groups in the past and are still relevant today due to his unique style.
Sahir made a huge contribution to Indian cinema by writing everlasting lyrics for many hit songs for example, kabhi kabhi mere dil me, abhi na gao chod kar, chehre pe Khushi aa jati hai, jo waada kya wo nibhana pade ga, and the list is endless. Moreover, the inclusion of the name of a songwriter in the credits of films is also because of Sahir. He has won two Filmfare awards, one for his poem Taj Mahal (1963) and the other for Kabhi kabhi mere dil mein (1976).
He was the first lyricist who received royalties from music companies. He was one of the biggest advocates for people. His tone in writing has strength, resistance, bitterness, and anguish but delicacy, and loads of love also. Sahir by heart was a secular person
and the only religion he preached is love:
Aqaed vahm hain mazhab khyal-e- khaam hai saaqi
Azal se zehn-e-iinsan basta-e- auhan hai saaqi
Sahir took complete liberty to transcend religious barriers in one of his famous songs for the film 'Hum Dono' sung by the melody queen Lata Mangeshkar: Allah tero naam, Ishwar Tero naam (Your names are Iswar and Allah)
As a poet, he strongly advocates ideas such as love, peace, and humanity which makes his relevant for all times. Some of his evergreen couplets from these themes are listed here:
Peace over War
Jang kia maslon ka hal degi
Jang to khud aik masla hai
In his writings, he was conscious of the problems faced by humanity. He did not compromise on upholding peace and emphasized that war should be despised at all costs. In the historical context of the 1965 India-Pakistan war, he penned one of the best poems of that time 'Ae Sharif Insaano.' He writes:
Khuun apna ho ya parya ho
Nasl-e adam ka khuun hai akhir
He urges people to explore themselves and fight within:
Jang kay aur bhi to maidaan hain
Sirf maidaan-e-kisht-o-khun hi nahi
Hasil e zindagi khirad bhi hai
Hasil e Zindagi junun hi nahi
Debunking Patriarchy
Sahir fought for the liberation of women through his songs 'Aurat ne Janam diya mardon ko' and 'log aurat ko fakat jism samjh lete hain'
Challenging Power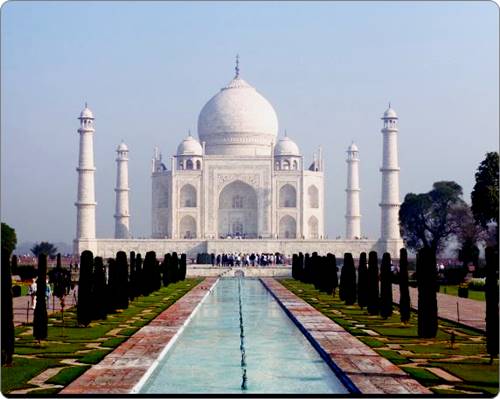 'Taj Mahal' symbolizes love but Sahir gave his own artistic twist to it and broadened the discourse around it by connecting the struggles and sorrows of common people with it. In his phenomenal poem 'Taj Mahal', he voices the struggles of workers and points out the imbalance and injustices of the society:
Ik shenshah ne Daulat ka sahara le kar
Hum garibon ki mohabbat ka udaya hai mazak
Humanity above Everything
He shuns all forms of communal forces:
Tu hindu banega na musalman banega
Insaan ki aulad hai insaan banega
These masterpiece lyrics written by him were sung by the great Muhammad Rafi for the film Dhool ka Phool (1959).
A Land of Happiness
He envisions a place where people can enjoy themselves, celebrate diversity, and can transcend the limits of religion, class, gender, and ethnicity. He focused on the spirit of life and said:
Yeh desh hai veer jawaanon ka
Albelon ka mastaanon ka
Is desh ka yaaron kya kehna
Yeh desh hai duniya ka gehna
This song was written for the film 'Naya Daur (1957)' and it featured the legendary Dilip Kumar.
Critique/Reflection
There are traces of patriotism in Sahir's words however, he refuses to blindly follow it and exposes the underlying contradiction in its ideology. Although he loved his country, he always remained critical as well.
apne andar zara jhank mere vatan
apne aibon ko mat Dhank mere vatan
Sahir was fearless in questioning false nationalism and jingoism when he said:
Jinhe naaz hai hind par wo kahan hain?
A sense of pessimism
Sahir has seen some of the tragic incidents during his life. From his childhood till the end, he witnessed separation, went through struggles in his love life, and most importantly the partition of his land which is often reflected in his writings.
There is a variety in his emotions and he expresses deep melancholy at times:
Dekha hai zindagi ko kch itne qarib se
Chehre tamam lgne lge hain ajeeb se
Hope
He does not leave his readers hopeless and ensures that there is a silver lining even in the worst situations.
Wo subha kabhi to ayegi
And,
Mein zindagi ka sath nibhata chala gya
Legacy of the Legend
Not only people but his fellow poets were also convinced of his talents. Contemporary poets like Gulzar also said about him that: 'Every lyricist accepts the medium but he was one of those poets who was accepted by the medium'.
Sahir's legacy is being PROGRESSIVE and by Progressive, he means being 'Humanist' Sahir was not just a poet of India; he is the poet of all those people who believe in LOVE. He was wrong when he said:
Mein pal do pal ka shaiir hun
He is an eternal poet and his legacy continues till date!