Ya Mustafa, Nur-ul-Huda, Sani Tera Koi Nahin – Ustad Nusrat Fateh Ali Khan's Beautiful Naat
The other day I was listening to a splendid naat by Ustad Nusrat Fateh Ali Khan, which he sang in Paris in March 1988. I've had this recording for more than 30 years and still tears filled my eyes, and I couldn't help thinking that this music is so good that there simply are no words to express just how brilliant it is.
How blessed and fortunate are we that we can listen to music from 30 years ago in digital quality, and as often as we like. Before music could be recorded, once an exceptional piece had been played or sung, it was gone forever, and lived on as a memory in the minds and hearts of those who had heard it.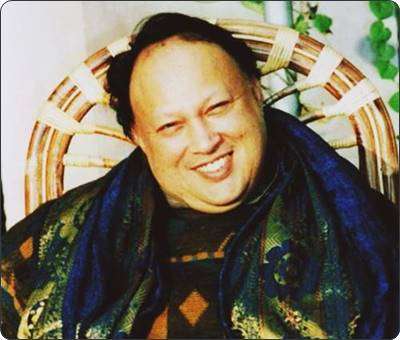 While the word 'epic' has almost lost its authenticity due to the reason it is used so frequently in music, when we talk about Nusrat Fateh Ali Khan the word epic is truly legitimate.
Living a short life Nusrat recorded more than 150 studio albums and composed more Qawwalis than any other Qawwal ever did in his lifetime. Nusrat Fateh Ali Khan songs remain a treasure for all fans of Qawwali and Sufi Music.
Nusrat Fateh Ali was truly a musical genius and a prodigy. During his initial Qawwa training in childhood his family was against him becoming a Qawwal, due to his shrill voice he had. Nusrat Sahib's family even recommended him to become a doctor because he was a hard worker. He was truly a workaholic who worked day and night to improve his voice quality and try a versatile range of music genres that include Qawwalis, Ghazal, Punjabi Sufiana Kalam and more.
Nusrat Fateh Ali Khan songs became household names in Pakistan via PTV [ Pakistan National TV] which gave him recognition all across the country. Soon he had concerts in all cities of Pakistan and people loved him for his exceptional live performances that had people going into ecstasy however he's true recognition beyond the borders of Pakistan arrived when he experimented traditional Qawwali were Western instruments with Peter Gabriel and Eddie Vedder.
Nusrat Fateh Ali Khan became a worldwide sensation instantly Japan invited him because they thought he resembled a Laughing Buddha which is considered a sign of good omen. In India he collaborated with Javed Akhtar who is renowned for his poetry for Bollywood movies together they created Afreen Afreen, which is not only an amazing track in its Melody but also amazing in its poetry.
Sharing this sublime naat by Ustad Nusrat Khan Sahib. Enjoy!
Wazir