Rabba Sachaya Tu Tay Aakhiya See – Faiz Ahmed Faiz Punjabi Poem
Being a Marxist, Faiz was common man's poet. He had a unique ability to write verses which started from romanticism but moving towards a darker tone as he spoke of tyranny and oppression he witnessed (examples being Mujh Se Pehli Si Muhabbat  Meri Mehboob Na Mang and Raqeeb Se).
Shoaib Hashmi, renowned artist and also Faiz sahib's son in law) mentioned in a interview that he once requested Faiz to write in their mother tongue, Punjabi.
Faiz agreed and write a subsection within his poetry book Sham Shehr-e-Yaaraan , which include below poem that is considered his most admired Punjabi poem.
ربّا سچیا تؤ تے آکھیا سی
جا وے بندیا جگ دا شاہ اے تؤ
ساڈیاں نعمتان تیریاں دولتان ہیں
…ساڈا نائب تے عالیجاہ ہے تو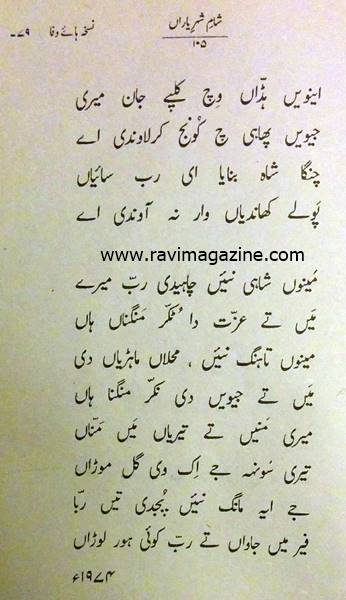 Rabba Sachaya Tu Tay Aakhiya See
Ja O' Bandaya Jugg Da Shah Ae Tu
Sadiyan Naimataan Tairyan Doltaan Ne
Saada Naieb Te Alijah Hai Tu
Ais Laarey Torr Kadee Poochiya Ee?
Ki Ais Nomanay Tay Kee Beetiyan Nay?
Kadee Saar Wee Layee O Rab Sayeena?
Terey "Shah" Naal Jugg Ki Kitiyan Ne?
Kithe Dhonss Police Sarkaar Di Ae
Kithe Dhandlee Maal Patwaar Di Ae
Enway Hudda Ich Kalpay Jaan Meri
Jivain Phahee Ich Koonj Kurlondi Ae
Changa Shah Banaya e Rabb Sayeyan
Polay Khandiyan Waar Na Aondi Ae
Mainu Shahi Nai Chahidee Raab Saaiyan
Main Te Izzat Da Tukkar Mangda Aan!
Mainu Tahng Naee, Mehel Maria'n Di
Mai Te Jeewene Di Nukkar Mangda Haan!
Meri Manney Te Teryan Mai Mannan!
Teri Sonh Je Ik Wi Gal Moran!