Pak Suzuki: Analysis of Financial Services
Pak Suzuki: Analysis of Financial Services
ECONOMY AT A GLANCE
The economy of the country showed improvement during the year 1994 – 95.  Many structural and macroeconomic reforms were implemented.  The GDP at 2.30% in 1992 – 93 rose to 3.80% during 1993 – 94 and 4.70% during 1994 – 95.  Fixed investment in the country went up by 17% and major crops showed a growth of 6.40%.  The cotton crop recouped from the crises of the two preceding years and poised for stable recovery.  The programs for the development of energy resources were vigorously followed with foreign investors committing large investment in the sector.  Growth of value-added manufacturing however slowed down due to a lower growth in large scale industry at 2.70% during 1994 – 95.  This is partly attributed to an inadequate production of cotton crop and downstream effects on cotton ginning, cotton yarn, and fabrics.  It was coupled with slower growth in sugar production due to delayed start of sugar-cane crushing and decline in the production of major industries due to adhocism, inconsistent policies and law and order situation.
ENGINEERING INDUSTRY
All developed economies like Japan, USA, Germany, etc. all began their journey to the ultimate economic sovereignty through such industries as ginning, spinning, sugar, and other simple manufactures.  Pakistan is following the same course and real industrial and economic growth will come when a planned shift is made to encourage high-tech, value added manufacturing and to develop ancillary industry.  Recently the government, in consultation with public and private sectors, has formulated a policy package on engineering which will go a long way in helping, among others, the automobile industry.  This policy provides incentives by offering;
a) Accelerated depreciation
b) Reduced duty on raw materials
c) With-holding tax on basis of 'actual duty paid value'
d) Industry specific deletion (Deletion will not be rolled back)
Government has also constituted an engineering development board in this respect, reporting directly to the Prime Minister.
AUTOMOBILE INDUSTRY
HISTORY :
General Motors  and Sales company were the pioneers of automobile manufacturing in Pakistan . They started on an experimental basis in 1949 , this plant rapidly grew into the source of Bedford Trucks and Vauxhall cars , providing the fledgling market with its first locally produced automobile . Based  on the predictable success of General Motors , other American companies also set up their assembly plants. and then in 1963 , the Hyesons group set up the first locally managed plant for the assembly of Mack Trucks. all these plants were however restricted to the Semi-Knocked Down assembly operations. In 1972, the peoples party government took over the management of auto units through an Economic Reform Order  1972. These units were first placed under the control of Board of Industrial Management.
In 1973 Pakistan Automobile Corporation (PACO) was founded as a result of Governments efforts towards organizing a body to promote the industry. The main reasons for the establishment of PACO were :
To provide technical and managerial support for the development of infrastructure for a broad engineering base catering to the automobile industry.
To enter the export market.
To generate employment through industrialization ; and
To improve technical and managerial skills through International and Local programs.
During the same year Government created a Ministry of Production which control all the Nationalized units and Automobile industry was also placed under it. From 1972 to 1980 , all the units were under the control of the government and the sector enjoyed complete monopoly. All policies relating to manufacturing , distribution, import, sales and prices, were formulated by the government. In the early 80's , the automobile industry was open for the private sector operations and Gandhara Nissan was allowed to take the franchise of Japanese trucks , Buses and Cars. Similarly Hinopak was established in the private sector and became the first joint venture with Hino of Japan. Suzuki Motor Company was formed  replacing the Awami autos  and Suzuki Motors Japan was inducted as a partner. Then in the late 80's the government following the global trend moved for privatization and therefore automobile industry was open for the private sector.
PRODUCTS :
The automobile industry can be divided into two categories :
Heavy Commercial Vehicles. (HCV)
Light Commercial Vehicles. (LCV)
Heavy Commercial Vehicles :
The total demand for HCV is approximately 5000 – 6000 units. The market is  growing at an annual rate of  5% -6%. HCV's were previously imported , but today there are 4 units which are engaged in the assembly of HCV's, namely  :
Hinopak
Ghandara Nissan.
National Motors.
Sind Engineering.
Fully manufactured HCV's are imported in small numbers and that too for special purposes  e.g. Armed forces.
Light Commercial Vehicles :
This category includes cars , pickups and light trucks . Until 1992, there were estimated 640000 LCV's in Pakistan out of which 479668 were cars. The demand for LCV's was growing at a rate of 9% , while the growth rate in the demand for cars was 12%. The current demand for LCV's is 60000 units , which can be divided into three categories :
Locally manufactured cars.
Imported new cars.
Imported Reconditioned cars
Until 1990 , Pak Suzuki was the only local company engaged in the assembly of cars and thus enjoyed 80% of the market share. However, since the early 90's new Japanese Auto makers have come in the market i.e. Toyota and Honda. A Korean Company Kia Motors  and   Nissan of Japan (Ghandara Nissan) are  also on the anvil of assembling cars in the country.
CURRENT  SCENARIO :
The car industry is threatened with the import of reconditioned cars at low tariff rates augmenting a variety of models and makes rendering them unserviceable due to lack of adequate supply of spares and service backup.  The vendor industry with its small base is constrained to compete with international components and parts manufacturers on price where economies of scale are critical for local use as well as export.  It needs to grow in quality of management, components, and (international) competitiveness.
Government in the past has resorted to devaluation in order to boost exports, reduce trade imbalance, and support the textile sector.  There have been four devaluations about 48% in 70s, 10% in 80s and twice 7% each in 90s.  This has increased the inflation rate, thereby, increasing interest rates and a decline in industrial growth.  Devaluation also led to increasing existing foreign debt burden, increasing consequently debt servicing which in turn led to increasing balance of payments.  In our import based economy the solution lies in the high-tech value added industry leading to increase the investment, broadening technological base, productivity, high-tech value added manufacturing, employment and savings.
COMPANY OVERVIEW
PAK SUZUKI MOTORS COMPANY LIMITED
Pak Suzuki Motor Company was established in 1993, and is a joint-venture between Pakistan Automobile Corporation and Suzuki Motor Corporation of Japan. Previously, Pak Suzuki had its assembly facilities at West Wharf in Karachi. The company started its commercial operations in this plant in January 1994 with the primary objective of progressive manufacturing, assembling and marketing of cars, pick-ups, vans and 4*4 vehicles in Pakistan.
In 1992 the company moved its plant and office facilities to Bin Qasim (Karachi), and the entire range of products that are currently being marketed in Pakistan are being produced at the Bin Qasim plant. This plant has a capacity of fifty thousand  (50,000) vehicles per year. At present, three different models of Suzuki cars namely Mehran, Khyber and Margalla and light commercial vehicles including 4*4  vehicles are being produced at the new plant.
The company continues to be in the forefront of the automobile industry in Pakistan. Over a period the company has developed an effective and comprehensive network of sales service and spare parts dealers who cater to the needs of the customers and render effective after sales service countrywide. Its has sold over 362,000 vehicles since its inception and holds about 70% of the total share of the domestic automobile market. Its is serviced by 211 active vendors who are engaged in the local manufacture and supply of automotive parts to the company.
The company was privatized and placed directly under the Japanese management in September 1992. At the time of the privatization, the Suzuki Motor Company (SMC), increased its equity from 25% to 40%., and subsequently SMC further enhanced its equity to 67.20%. In July 1994 the installed capacity of the company was increased to 50,000 vehicles per year.
Bin Qasim plant in brief:
Location                      : Downstream Industrial Estate of Pakistan Steel Mills
Total Area                   : 259,200 sq. meters ( 64 Acres)
Covered Area              :   41,000 sq. meters
Cost                             : Rs. 2.10 billion
Production Capacity   : 50,000 units per annum ( Double Shift )
Capacity Utilization    : 55.33 %
COMPANY OVERVIEW
INDUS MOTOR COMPANY LIMITED
The Company was formed in accordance with the terms of a joint venture agreement concluded amongst House of Habib, Toyota Motor Corporation and Toyota Tsusho Corporation for the purpose of assembling, progressive manufacturing and marketing of Toyota vehicles. The company acquired the sole distribution of Toyota vehicles in Pakistan with effect from 1st July 1990 and is engaged in its import and marketing operations.
The company was incorporated in Pakistan as a public limited company in December 1989 and started commercial production in May 1993. The shares of the company are listed on the Karachi Stock Exchange.
Its production facilities are being set up at Port Qasim initially for 20,000 units which can be expanded to 40,000. Currently the company has a capacity utilization of 23.00%. The plant started its production in April 1993 and before this the income of the company was in form of commission on the vehicles imported in Pakistan. Currently Indus Motor Company is manufacturing Toyota Corolla in four different ranges namely Corolla GLi, GLi Ltd., GL and XE. The latest development in the company's ranges of Corolla is the launch of Corolla Diesel. Recently the company has started production of 4 X 4 and 4 X 2 Double and Single Cab pick-ups respectively. It has also started exporting cars to Bangladesh.
BALANCE SHEET VERTICAL ANALYSIS
Indus Motor Company Ltd.
The company increased its investment in Current Assets tremendously in the year 1993 which represented 63% of the Total Assets.  Otherwise we can see a gradual increase in the Current Assets from 27% of Total Assets in 1991 to 50% in 1995.  In 1993 the abnormally high Current Assets resulted due to increased Trade Debts(Receivables) and Stock in Trade(Inventory).  This was because Honda Atlas started its manufacturing of Honda Cars in 1993 and thus Indus Motors faced stiff competition resulting in decreased market share.
The company's investment in Fixed Assets has gradually increased in the five years and became stable to approximately 50% of Total Assets in 1994-95.
The company took a lot of Running Finance and Morabaha Finance in 1993 and 1995 due to which its Current Liabilities increased to 57% of its Total Assets in 1993, though it paid off a lot of its Long Term Debt during the same year.
The stock Holders' Equity remained more or less stable during the five year period at approximately 50% of the Total Assets.
Pak Suzuki Motor Company Ltd.
The company has not seen much change over the past five years.  Its Current Assets have remained more or less stable at approximately 68% of Total Assets over the period under consideration.  However it has invested considerably more in Current Assets as compared to Indus Motors.
The company's investement in Tangible Operating Assets increased sharply to 28% of Total Assets in the year 1993 and again in 1995.  In both these years Pak Suzuki expanded its production.The company's Total Fixed Assets have remained stable as a percentage of Total Assets over the past four years.
The Current Liabilities have increased gradually from 48% of Total Assets in 1991 to 72% in 1995.  However a sharp increase in outstanding Bills Payable is seen in 1994-95.
Pak Suzuki decreased its Long Term Loans considerably to 17% of Total Assets in 1995.  Before 1995, the company averaged L.T. Debt of 35% of Total Assets.
BALANCE SHEET HORIZONTAL ANALYSIS
Indus Motor Company Limited
Taking the year 1991 as the base we find that the company has grown five times in the period under consideration in terms of Total Assets.  Its Current Assets have however increased ten times mainly due to increase in Stock in Trade.
The company's Long Term Liabilities have gradually been decreasing during the five years after a sharp increase in its second year of operations(1992).
Except for 1994, the company has retained most of its profits as Revenue Reserve.  This is because of increased competition in the car manufacturing industry.  This strategy led to a ten times increase in the Reserves even when the Capital Reserves were constant over the five years.
Pak Suzuki Motor Company Ltd.
Keeping 1991 as base year we see that the company's Total Current Assets have stabilised in the past three years.  However the company's Trade Debts jumped to twice the 1991 figure in 1995 but was off set by decreased inventory.
Total Fixed Assets have grown six times that of 1991 figure.  Whereas the Total Current Liabilities increased one and a half times in the past five years and Total Liabilities and Equity remained almost stable throughout the period.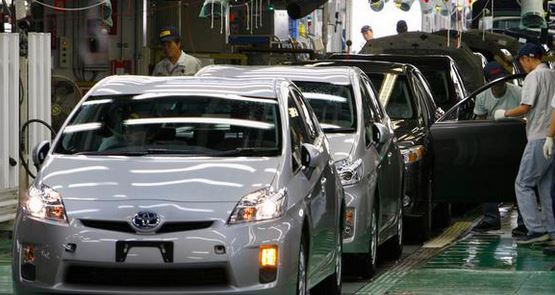 INCOME STATEMENT VERTICAL ANALYSIS
Indus Motor Company Ltd.
The company's Cost of Sales has gradually increased from 88% to 92% of Sales during the five year period.  The company's Cost of Sales was highest in 1993 at 93.15% of Sales.  The company has failed to decrease its Cost of Sales percentage over the years.  The management explains that this failure is a result of appreciation in the value of Japanese Yen.  But the company has also increased its prices over the years.  Therefore this excuse is invalid in our opinion.
The company has however been successful in decreasing its Selling, General and Administrative expenses.  The lowest SG&A expenses can be seen in 1994 as a percentage of Sales even though the number of employees has increased from 151 in 1991 to 509 in 1995.
The company's Financial Charges have been increasing mainly due to the increasing short term financing even though the Long Term Loans are decreasing.
The company's profits have fluctuated tremendously over the years.  The highest profits seen in 1992 at 5% of Sale and the lowest in 1995 at 1.34% of Sales.  The company sold the highest number of units in 1993 (11,034 units) and lowest in 1995 (6,802 units).
Pak Suzuki Motor Company Ltd.
The company has remained at loss for the past four years.  However the loss has decreased from 10% of Sales in 1992 to 0.10% in 1995.  The big losses in 1992-94 were mostly due to very high Cost of Sales which was even higher than the Sales figure.  The company has however reduced its Cost of Sales to 95% of Sales in 1995 which is still high.
INCOME STATEMENT HORIZONTAL ANALYSIS
Indus Motor Company Ltd.
Keeping 1991 as the base year we see that the Cost of Sales grew more than the growth in Sales in every consecutive year.  The company has definitely been unable to control its Cost of Sales.  The Gross Profit has increased more than two times since 1991.
SG&A expenses have been growing modestly to twice the level in 1991 even though the number of employees increased four times during the five year period.  Thus a handsome thrice fold increase in Operating Profit since 1991.
The financial Charges have increased more than ten times for the reasons discussed earlier.  However the company made very low Provision for Taxes in 1994 even though the Earnings before Taxes were handsome.  This resulted in the inflated ever highest growth of profits in 1994 (three fold).
Pak Suzuki Motor Company Ltd.
Considering 1991 as base year we see that Sales have only marginally increased in the five year period.  However Gross Profit increased two fold in 1995 but there was negative growth in the preceeding years.
SG&A expenses have remained at the same level as that of 1991 and thus Operating Profit became five times that of 1991 figure in 1995 only.  However increased interest on short term loans (Other Charges) in 1995 led to an after tax loss situation.
RATIO ANALYSIS
The Current Ratios of Indus Motors have been very handsome over the five years but we see that the Quick ratio is less tha even half of the Current Ratio in each year.  This is because of the high level of inventory and receivables in the company.  Overall the liquidity position is not very bad as compared to industry average of 0.43 of Quick Ratio.  On the other hand the liquidity position of Pak Suzuki is in pretty bad shape.  Both the Current and the Quick Ratios are lower than the industry norm.  Infact the Quick Ratio, which gives a better picture in this industry of high inventry levels, is less than even half of the industry norm in each year.
The leverage ratios show that Indus Motors has low level of debt as compared to industry norms.  This gives the company a comfortable position as it can take cushion of its equity and can expand by taking in more debt in the future.  On the other hand the leverage position of Pak Suzuki is considerably worse thanthe industry norm.  This company has low levels of Equity and is over burdened by excessive debts.  This fact is also highlighted by the negative Times Interest Earned Ratio over past threee years.  The Times Interest Earned Ratio of Indus Motors depicts that the company is earning better than the industry norm.
The industry average ratios were not available for Efficiency Ratios.  However comparing the two companies' ratios we see that Indus Motors' inventory turns over faster than that of Pak Suzuki.  However Receivable Turnover is better of Pak Suzuki Motors.  This shows that Indus Motor sells its products faster and Pak Suzuki has better creditors than each other.
Looking at the Profitability Ratios we see that the Indus Motors is definitely a more healthy and profitable company than the industry average.  Comparatively, Pak Suzuki is a lot less profitable than the industry average with most of the profitable ratios coming out negative.