Fair and Lovely Fairness Cream: MBA Marketing Report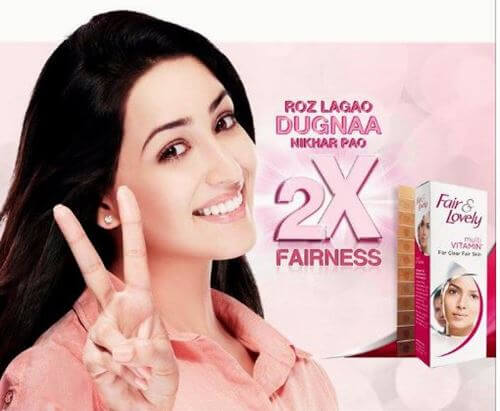 Table of contents:
Objectives ( Executive summary)
Company mission and goals
Nature of market
Target market
Market segmentation process
Brand personality
Market status
Competitors
Current sales volume
Profitability
Market share
4 Ps
Product
Introduction
History
Ingredients
Color
 Packaging
          Brand name
Brand equity
Life cycle – strategy
Differential advantage
Prices
Pricing strategy
Pricing objectives
Cost plus pricing
Fair & lovley- Prices in relation to product life cycle
Geographic Pricing strategy
Discounts and allowances
Promotion
Advertising agencies
Brand positioning
Relationship marketing – schemes
Sponsorship
Advertising strategy
Level of involvement
Adoption process
Personal selling
Discounted selling
Direct consumer contact
Placing
Distribution channels
Distribution strategies
ACKNOWLEDGEMENTS :
We would like to thank the people at Lever Brothers who helped us immensely .
Ms. Naueen Ahmed, Brand manager-skincare ; Mr. Feisal Hashmi , Brand manager-Fair and Lovely ; and  Mrs. Batul Hasan , Market research manager , deserve our special thanks .
INTRODUCTION:
This is our marketing term report, which concentrates on the basic elements of marketing . The brand that we have chosen is Fair and Lovely fairness cream , this is a popular skin lightening cream .Fair and lovely is a premium fairness brand which has a respectable market share . It has a major consumer base and strong hold over the market . Fair and Lovely has been around for a considerable time and it has survived environmental changes . This report will consist of the information that we have gathered along with our analysis of the brand .
In order to collect information we have met the relevant people- the brand manager and the market research manager . We prepared questions and asked the Fair and Lovely team about our queries. In addition to this we have gathered information from our environment as well. Speaking to retailers and shopkeepers has proved very helpful in getting to know about sales patterns . Speaking to consumers has further clarified lot of things . Browsing  through newspapers and magazines has helped in getting to know more about the brand . Simply relying on one source would not have been so effective so that is why we consulted many different sources , such as the people at the company , shopkeepers , consumers and the print media .
OBJECTIVES OF THE REPORT :
The primary objective of this report is to further improve our understanding of the subject. Marketing is a subject which can be fully understood only when one ventures towards its practical and applicative dimensions. This report is providing us that very opportunity . Picking a real life brand and applying all relevant marketing concepts to it and studying the brand in detail helps us in understanding what marketing is all about .
This report is going to essentially focus on the 4 Ps of marketing along with our subsequent analysis.
OUTLINE OF THE COMPANY:
Lever Brothers is the Pakistani chapter of the Anglo- Dutch concern Unilevers. This is the largest conglomerate in Pakistan producing the fastest moving consumer goods. Since its inception in Pakistan, half a century back, Lever Brothers is viewed as an organization that provides quality consumer goods. Lever Brothers produces food goods, home cleaning goods, fabric wash and personal care products. They have been a name to reckon with. Lever Brothers capture a sizable portion of the revenues generated in the Pakistani market. It is one of the most prestigious multinational corporations. Working with Lever Brother's is a widespread desire of many individuals. Lever Brother's is known as the most local multi national. This reaffirms the organization's commitment to the local consumers.
LBPL is a member of the Unilever Group, a worldwide organization consisting of more than 500 units spread over 80 different countries, operating under different names and dealing with diverse variety of products.
Unilever aims to be the foremost company in meeting the daily needs of consumers across the world in its chosen markets .The greater part of its business is in branded and packaged consumer goods – primarily foods, detergents and personal products. Unilever's other major activity is in specially Chemicals.
Over 1000 strong and successful brands are marketed by Unilever Companies worldwide. Many are market leaders in this country. In addition, many are international market leaders too.
The original company, Lever Brothers came into being in 1885 when W.H lever, later lord Leverhulme, launched ' Sunlight ' soap. By the end of the century, he had built up one of the largest soap business in the world.
Lever brothers came to Pakistan in 1948. Although Lever was already a household name in India, its physical presence in present day Pakistan was restricted to a small Karachi office run by Katrak and co.
Today that initial relationship has steered towards new dimensions. The company pays a significant proportion of the taxes, it employs vast number of people and satisfies the needs of the consumers and provides trained and motivated manpower. Initially the factory and headquarters was established in Rahimyar Khan, but later on the headquarters was shifted to Karachi  – due to its proximity with the port.
The success of Lever is synonymous with that of Pakistan. Today Lever Brothers is a market leader.
It has 4 SBU's , commercial department , finance department , an in house research department, a very efficient and consistent HR department , A dynamic sales chain and excellent production capacities , not to forget mentioning the strict administration.
They hire competitive employees , who are qualified and willing to work . They have a proper personnel procedure .
A very pertinent question asked by many is that why isn't Lever Pakistan known as Unilevers, as it is throughout the globe. The reason is that Unilever actually is a company constituting of many small businesses . Many of these businesses are not being operated in this region . When the company started its operations in pre-partition India , it started as a subsidiary of Unilevers producing cooking oil , soap etc . Unilevers worldwide also operates in many allied businesses , so it did not want to name its subsidiary Unilevers; instead it was named Lever Brothers . After partition , the Indian chapter was named Hindustan Levers and the Pakistani section was named Lever Brothers Pakistan Limited. Lever Brothers Pakistan, comes under Central Asia & Middle East (CAME) group.
Some vital statistics regarding Lever Brother's are as follows :
Name of chairman:    Jean Mark
Revenues:                   Rs. 20 billion  per year
Employee strength:    2500
Number of brands:    50
SBU- INTRODUCTION:
Fair and lovely is produced by the home and personal care products department. The head of this department is Ms. Musharaf  Hai . This department has three broad categories operating within . The first one headed by Mr . Rizwan Jamil produces detergents such as Surf, Wheel, Sunlight etc. Mr.Athar Jamal heads the second product group known as personal wash and homecare group . Lux, Rexona , Liril , Lifebuoy and Vim are the brands that fall in this category. Ms. Shazia Syed heads the personal product category.  Shampoos (Sunsilk, Lifebuoy ), Toothpaste (Close –up , Pepsodent ) and Skin care products ( Fair and Lovely ) are on the portfolio of this category . Ms. Naureen Ahmed handles the skin care products and Mr. Feisal Hashmi works along with her . ( organograph in the appendix ).
Ambition , determination and courage along with the right qualifications make the right employees for this department .
This department has the highest profit on sales throughout the company .
MISSION STATEMENT AND CORPORATE OBJECTIVES:
Mission statement:
Lever Brothers will be the foremost consumers Products Company in Pakistan , a multinational with deep roots in the country . We attract and develop highly talented people who are excited , empowered and committed to double digit growth . We serve the everyday needs of all consumers everywhere for foods , hygiene and beauty through branded products and services that deliver the best quality and value .
We strive to remain an ever simple and enterprising business . We use our superior consumer understanding to produce breakthrough innovation in brands and channels .
Our brands capture the hearts of consumers through outstanding communication .
Through managing a responsive supply chain , we maximize value from suppliers to customers. We are exemplary through our commitment to Business ethics , Safety , Health , Environment and involvement in the community .
Corporate objectives:
Our corporate objectives are to maximize profit and attain the set goals without compromising on the quality or on our business ethics
Core values:
The core values of lever brothers are
People – Our people are our key to success. The development of their potential is of utmost      importance.
Customers – Lever Brothers is customer focused. Satisfying wants of the consumers is our goal.
Suppliers – Our suppliers are our partners and we maintain mutually beneficial relationships with them.
Integrity – Integrity can never be compromised upon.
Environmental responsibility – Safety and protection of the environment in which the organization operates is of prime importance.
Profit – The ultimate measure of our performance. Profit is required to maintain and grow our business.
Slogan:
 
Vision  for  tomorrow
Short term goals:
The departmental heads and the managers set the short-term goals. The short term goals of Lever Brother's are maximization of profit, increased revenue, minimization of costs, good relationships with employees, satisfying consumer wants, being the best and getting the deadlines met.
Long term goals:
The management committee members, the chairman and various directors set these goals. These goals pertain to development of the company. The long-term goals of lever brother's are expansion of business, to capture the market completely and exploration of new dimensions. The company also plans to be the biggest conglomerate in Pakistan.
MARKETING OBJECTIVES OF FAIR AND LOVELY :
The major objective of the brand is to gain leadership in the skin care market .At present Fair and Lovely is the market leader as a skin lightener , but now the brand wants to be recognized as a foremost skincare brand ( not only as a skin lightener ) . They want to gain a dominant market share .
In the marketing jargon , a brand is considered to be a market leader if its market share is equal to twice the market share of its biggest competitor .
Along with these major objectives the brand also has some other objectives . These include gaining top of the mind recall and spontaneous awareness – to a great extent these objectives have been realized .
Gaining heart share and mind share are also pertinent objectives .
Another objective is to establish a skincare regiment and expand the product offerings based on the skincare platform .
MACRO ENVIRONMENT:
The macro environment of any organization is of prime importance to it . The macro environment for Fair and Lovely is as follows :-
DEMOGRAPHICS:
AGE – There is an emerging youth market in Pakistan . The population between the ages of 16 to 40 is increasing . So this is in a  way good for the brand .
INCOME – The consumer that is intended to buy this brand belongs to the average income group .
ECONOMIC CONDITIONS –
The business conditions in Pakistan is not very promising . There are lot of fluctuations and crisis occurring in the business cycle . Although we are not facing a recession , but still nevertheless we are not facing a prosperity . This can effect the sales of the brand .
The inflation rate in Pakistan is very high . Prices are not under control . This can effect the price of the brand and lead to decline in sales .
Competition is encountered from all products seeking the same unit of consumer income.
So every product can be considered as competition .
SOCIAL AND CULTURAL FORCES-
More and more people are getting interested in Personal grooming and improving their appearance . This can be a positive factor for the sales of the  brand .
POLITICAL AND LEGAL FORCES –
Pakistan is in a period of martial Law and the political stage is very precarious . Law and order situation is also very bad in Pakistan , this can lead to less foreign investment .
But nowadays foreign investors are being given attractions .
MICROENVIRONMENT
MARKET:
The market for Fair and Lovely is the urban middle class consumers , more specifically females who are young .
SUPPLIERS:
Lever Brothers believes in maintaining a relationship of partnership with its suppliers . Suppliers are very integral . Extreme measures are taken to see whether the output of the suppliers in of consistent quality and all.
MARKETING INTERMEDIARIES:
Retailers , Wholesalers and transporters etc. are very important to maintain a proper distribution network.
COMPETITION:
Here competition occurs on the brand level as well as the substitute level .
On the substitute level, Fair and Lovely competes with soaps , cold creams , face wash , Ubtan, Besan , home remedies and face masks etc.
On the brand level the competitors are , Tibet, English , Ponds , Stillman's , Nivea etc.
NATURE OF MARKET:
The market within which fair and lovely operates is a very dynamic and expanding one .
It can be called a monopolistic competition .
Demand Measurement And Forecasting:
Whenever a corporation decides that they have a potential new product, the company needs to know about market size and future market growth (in Pakistan).
In Fair and Lovely's case, the firm needed to make a careful estimate of the current and future size of the market and its several segments.  In order to estimate current market size, Lever Brothers identified all competing products; estimate the current sales of the products ascertain of the market is adequate to profitably support another product.
Target  Market:#
This product is intended to primarily target the urban areas but nevertheless the rural segments also generate revenue. The target consumer is a 16 – 45 year old urban middle class / upper middle class female who believes in personal grooming and who wants to get her dreams realized. Unmarried girls seem to be major target consumers for this brand.
The company uses a single segment strategy , this can be said because the advertisements are very standardized and the product is the same . The tubes and jars cater primarily to the city consumers , sachets are used mostly in the rural areas . The sachet pack gives the lower income segments the opportunity to use the product  .
A very interesting finding is that old women and men also end up using fair and lovely, although they obviously deny it categorically. They use it very surreptitiously and in a hidden way. It is used by them as a sunscreen base and also as a moisturizer. ( !!!).
Market segmentation process:
The market is divided on the following basis; geographic, demographic, psychographic and behavioral.
Geographic:
A regional brand catering primarily to the urban centers. This brand is present only in India, Pakistan, Bangladesh and the Middle East. The urban centers of these countries are the target.
Demographic:
The brand targets young middle class urban females between the ages of 16-45.
The market is segmented on this important basis .
Psycho-graphic:
People who care about their personal grooming are conscious of their appearance , this is a basic human trait . According to Freud's psychoanalytic theory people want to get other people's attention , so looking good is a basic step in attracting other people's attention .
For many a people looking good means to look fair and Fair and Lovely helps them in achieving this .
Our society is to a large extent a conventional one . Generally the roles of men and women are very clearly defined . There is a major part of the female population which considers marriage to be the end all and be all of life . Due to exceeding materialism , prospective in laws either want a rich or a beautiful daughter in law . And as mentioned earlier fairness is generally considered equivalent to beauty . So in order to get married many a females want to look good and looking good automatically translates into getting fairer . So they are willing to use fairness creams . It is basically this element of human psyche and cultural norm that the makers of fair and lovely are cashing upon.
Behavioural :
The benefits desired from a fairness cream is that it should be effective without being harmful .
It should obviously not make the skin oily ( chipchipi  as it is called in Urdu ) .
The tubes and jars cater to those who have a high usage rate , while the sachets cater more to the light users .
Brand  personality:
The brand is intended to give the image  of a young vivacious girl who is very joyful and popular . This girl is perceived to be consistent in nature . This image is in congruence with  the intended target consumer . This female is supposed to be a bright and trustable girl . She is assumed to belong to an urban middle / upper middle class family . She has a lot of admirers and people generally like her .
NATURE OF MARKET
Current sales:
Current sales of fair & lovely amount up-to approximately up-to 53.2 tons, which generate a sales revenue of over Rs 1 billion annually. Sales of this product reach its peak in the summer season, mainly in the months of June and July, whereas in the winter season sales are a bit dormant. In the winters , people prefer using cold creams , fairness is not an issue at that time .  When in the summer season they face various skin problems they start using  Fair & lovely because of its effective advanced 14 day formula which provides them with complete protection against ultraviolet rays of the sun.
Whereas in the winter season they don't feel any such needs and therefore they discontinue the usage of Fair & Lovely which results in a decreasing trend in sales in those months and thus cycle of high usage in summer and low usage in winter is created. So that is the reason why Fair and Lovely has introduced the cold cream , to protect its market share .
Profitability:
Fair & Lovely is a very profitable brand. It has high margin as well as high cost. The high cost is attributable to the fact that skin care products need a lot of research and development as well as strict quality measures.
It has high margin because people are ready to pay a premium for any brand that claims and support a unique selling point. Such brands provide value to people and that is why greater profits can be obatined on it .
Market Share:
Fair & lovely faces a strong competition in its target market. Only 36% of the entire population of our country use fairness cream and out of which only 14% use Fair and lovely which is very low. Tibet has a market share which is nearly double of Fair and Lovely .This reflects that people are not so cautious about fairness and even if they are, they do not realize what benefits could be earned by the usage of fair & lovely.
Fair & Lovely faces a strong competition by not only local brands but as well as imported brands. Increased media usage among people has increased awareness of foreign brands among the people, thus further dividing  Fair & Lovely  market.
Out of the 36% of fairness cream users, 27% prefer imported brands and 73% prefer local brands.
Competitors:
Pakistani Made:
Care fairness cream
Revlon Touch N Glow
English Fairness Snow
Gipsy
Tibet
Stillman
Husn-e-Bimsaal
2-  Imported:
Fair & Lovely- India and Dubai
Crème 21
Dove
Oil of Olay
Nivea
Avon
Vico Turmeric
Archies
Freshia
Emamy Forever
BCG MATRIX:
The Boston consulting group ( BCG ) matrix states that any product , brand , service or firm can be classified either as a star , cash cow , question mark or dog .
On one axes we take the industry growth rate and on the other side we take the brand's market share .
Applying this model on fair and lovely we get to know that it is a star . The reason being that the entire skin care market is one that is growing very fast , and fair and lovely has a considerable market share , this makes it a star brand .
STAR

 

FAIR & LOVELY

Rapid growth and expansion.

QUESTION MARK

Risky  new  ventures.

Large negative cash flow
HIGH
MARKET   GROWTH
DOGS

No investment.

Keep if some profit.

Consider disinvestment.
CASH COW

Large positive cash flow.

Cash generated to finance

question marks and stars
RATE
LOW   
HIGH                                               LOW
RELATIVE  MARKET  SHARE
The strategy used by Fair and Lovely is that of market penetration as well as invest .
It is market penetration because the product and market is same but the sales volume and distribution is being intensified .
It is a profitable and promising brand and the company is investing in it to further consolidate its position as a star . Investment is needed by such brands because they need aggressive promotion campaigns and resources  to cope with competition and come up to customer expectations .
PLANNING :
The company indulges in extensive planning . The mission is defined , objectives are set , strategies are formulated and tactics are implemented . Planning is done for the company as a whole , for various departments and also for the various brands .
FOUR  P'S OF THE MARKETING MIX
PRODUCT
INTRODUCTION:
Before proceeding any further lets answer a simple question , Just what is true fairness ?
True fairness is about true skin that is flawlessly clear and even toned . It's about a radiant complexion that is glowing with health . A never before quality of fairness that only Fair and Lovely can bring about . Fair and Lovely's unique fairness vitamin works gently and safely on your skin , bringing to the surface a truly radiant glow . The glow of true fairness that no ordinary cream or home remedy can achieve .
Fair and Lovely is known as the no.1 fairness cream .
Fair and lovely fairness cream is a widely used popular skin cream . The brand name fair and lovely is a patent . Produced by Lever Brothers Pakistan limited , fair and lovely is an innovative and leading skincare brand . This white colored cream comes in three different sizes , the 8 ml. Sachet , the 50 ml. Jar and 25 gm and 50 gm tubes . In a way it is a historic brand in many ways .
Fair and Lovely promises a high , consistent and continuously improving quality .
The product was introduced following formal planning and thorough research .The in house research department – MRD , conducts on and off studies to check the market share of Fair and Lovely , the effectiveness of ads, brand equity studies and studies for further changes in products are carried out .
The research department carries out retail audit , qualitative research projects , quantitative research projects and consumer panel studies . There is a very updated decision support system .
HISTORY:
This brand was initiated in Pakistan in 1985 . This is a regional brand . It was first launched in India in the 1970's . This brand is catering to India , Pakistan , Srilanka and Bangladesh . The reason is that in this part of the world , beauty is somewhat associated with fairness . The western women are fair, they do not need any fairness aids . The African women are too dark, a normal fairness cream wont help them . It is only Eastern women who have a complexion which can be improved and maintained .
The reason for launching this brand is that the company felt that there was a need for a separate fairness cream . Up till that time although there were a lot of skin care creams but none talked so blatantly about fairness .Fairness till that time was considered a part of skin care . Fair and lovely created quite a few ripples by creating a subcategory for fairness . Tibet etc. were creams that were all purpose , they were used for fairness, dry skin , antiseptic etc.
Initially fair and lovely was launched in a simple tube , but now different modes of packaging are available .
Since its initial launch, the brand has been relaunched 4 times , each time with significant improvements in its quality, formulation , promotion and packaging .
This is a very fast growing brand , with a very high growth rate . It has never been stagnant .
Extension of this brand has also been carried out . Fair and Lovely cold cream is a new product . It is intended to capture the market for skin creams during winter.
INGREDIENTS:
Fair and lovely is effective due to its special ingredients . It contains fruity factor and a special fairness vitamin . This concoction makes your skin fairer and smoother .
Nature has gifted your skin with a natural fairness vitamin which controls Melanin , the pigment that makes you darker . Fair and Lovely supplements this very vitamin on your skin . It works gently and safely with your skin's natural processes . Makes you radiantly fair in just 6 weeks. At the same time, Fair and Lovely's proven double sunscreens protect your skin from the darkening  effect of the sun's UV rays . Giving you skin that is nourished , glowing and truly fair .
COLOUR :
Fair and Lovely fairness cream is of white color . The reason of this color is very simple . White signifies fairness . Apart from this White also symbolizes purity and cleanliness , an essential attribute of any skin cream . The color of any product is an important determinant of its attractiveness . So the white color very effectively denotes fairness , purity, freshness and hygiene . This is one of the reason that makes it a highly desired commodity .
PACKAGING
DEFINITION:
Packaging includes the activities of designing and
producing  the container and  wrapper for a product.
COLOUR:
The color of the cream is white. The packet has two colors; white and pink, which are soft, subtle and smooth colors. White and pink depict fairness,  softness and  beauty.
SIZE:
Fair and lovely is available in tubes and jars. The quantity is carefully measured. Fair and lovely is available in the following quantities;-
ADVANTAGES:
The packaging provides certain advantages which are as follows:-
TRIABILITY:
The sachets enable the customer to buy a small quantity on trial basis. If the customer is satisfied, they can buy Fair and lovely in larger quantities in the future.
INFORMATION:
The contents are clearly written so that the customer is assured about the ingredients used.
SYMBOLISM:
The simple concept of a female who is shown before and after the usage of Fair and lovely and the mark difference Fair and lovely brought to her complexion.
BRAND NAME :
It is the brand name of any product that makes it a distinguishable commodity in the yes of discerning consumers . The brand name Fair and Lovely is a major asset . It is a patent brand name , with sole rights claimed by Lever Brothers Pakistan limited .
The brand name is self explanatory in all aspects . It suggests a product that makes you fairer and enhances your beauty by making your skin softer and lovely , more than it was ever . The benefits of the Fair and Lovely brand name is that it suggests about the benefits of the product , it is easy to pronounce and remember , it is adaptable to all skin care brands ( evidence is the introduction of Fair and Lovely cold cream), but then the brands will have to strictly be related to fairness  . But the brand name does not score much on being distinctive . There is nothing distinctive or unique about the brand name , at times it even seems a bit banal .
BRAND EQUITY :
Fair and Lovely has a very strong brand equity . The brand name adds infinite value to the product . If given the choice between an unbranded cream at a lesser price and Fair and Lovely at a higher price , people still prefer to buy Fair and Lovely – they do not mind to pay extra for the brand name . This indicates a very strong brand equity .
People are aware of the existence  of the brand , they are loyal to the brand and they associate very strongly with the brand .
The brand equity of Fair and Lovely ahs become a differential advantage in itself . Any new entrant in the environment is faced with the daunting task to battle the  myth created by the strong brand equity of Fair and Lovely . Most newcomers often fail to do so .
Any bad events in the environment can be overcome by the strong equity . Constant sales are maintained even in times of bad economic situation because of this very strong equity .
BRAND LIFECYCLE :
Fair and Lovely is still in its growth stage , it hasn't reached stagnation yet .
A mass market exists for the brand , competition is increasing day by day , there is rapid growth in sales volume , profits are large , quality is improving etc .
At this stage the company is using a focus strategy . It is focussing all it's efforts on the target market . Market penetration is being used in the form of intensive distribution and more sales volume . A strong brand preference has been created .
DIFFERENTIAL ADVANTAGE :
Another plus point of Fair and Lovely is its strong differential advantage . The major differential advantage is that it was the first complete fairness cream launched in this region . Next is its high quality and effective ingredients . Another differential advantage of Fair and Lovely is that compared to other skin fairness creams it has a very contemporary and glamorized appeal . The city people do not shun it , this is a major advantage of Fair and Lovely .
PRICING
Pricing strategy:
Price is a very significant factor as far as economy and consumer mind is concerned. While setting prices company should consider setting such an appropriate price that coincides with the product image in the consumer mind that is established through promotion. LBPL has been very keen in setting the right price of fair & lovely for its customers. Fair & lovely has always been portrayed as a middle and higher class product therefore the company has always been using the market skimming strategy coupled with value added pricing. Prices of fair & lovely are usually higher than the market prices.
Pricing objectives:
Profit oriented goals:
Being a strong market player ad having the support of the multinational giant UNILEVER, LBPL can set its prices independent of the market. Thus setting a bit higher prices than the market Fair & lovely ensures a target return on around 15-20
By providing value added services and discounts to its customers LBPL tries to maximize its profit on total output.
LBPL has targeted its sales oriented goals of Fair & Lovely at maintaining a consistent market share and to become a market leader. Some how to a greater extent it was able to
achieve its goals but due to consumer psyche that prefer the imported brand over the local brand it has not been the market leader. Still Fair & lovely maintains a market share of 19%.
Status quo-oriented goals:
Since its introduction Fair & Lovely has constantly trying to develop a certain image in the eyes of its customers of a product that offers them a consistent quality at affordable prices. So far Fair & Lovely has been successful in doing so.
As far as price competition is concerned, there hasn't been a price war in the fairness cream industry. Although other competitor prices are very closely linked like Tibet snow if Rs24 whereas English snow is offered for just Rs 20 but still Fair & lovely is offered for Rs27 and is still being appreciated.
Cost plus pricing:
Prices of fair & Lovely brand are set according to the cost plus pricing strategy. Analysts estimate the cost of labor and materials and after adding different expenses they compute the total cost of the particular unit that the company incurs. After adding a suitable profit margin for the retailer and the wholesaler and the company itself, a market price is reached.
Prices of fair & lovely in the market are as follows:
| | | |
| --- | --- | --- |
| PACKING | PRICE | QUANTITY |
| Tube | Rs 27 | 25gm |
| Bottle | Rs 52 | 50ml |
| Sachet | Rs 6 | 8ml |
Pricing to meet market competition:
LBPL does not believe in setting prices in relation to the market. LBPL believes that by adding value added product and a consistent quality product to its customers, it can charge higher prices from its customers that its competitors who do not provide any value added services.
Secondly due to increase in health awareness people are now concentrating over quality and not quantity. Hence in this regard also fair & lovely has been able to come up to its customers expectations and thus has been able to set an appropriate price according to its cost that is both,
affordable and induces a spirit of brand loyalty.
Price of Fair & lovely in relation to product life cycle:
Prices of fair & lovely have relatively been stable over its product life cycle. Different stages of its life cycle have been discussed below:
Introduction:
When fair & lovely was introduced in the market (1994), the use of fairness creams was a relatively new trend and before that people only used to use cold cream and bleach creams. LBPL recognized this opportunity and launched the fair & lovely fairness cream. During this stage it employed the market skimming strategy. The product was launched with a full-fledged marketing program and with a relatively affordable price, it proved to be a great success.
Growth:
By this time more new companies had entered this field, therefore Fair & lovely adopted a new strategy of value added pricing by adding a new feature in their product and that was of sunscreen protection. Thus a unique selling point was developed and thus fair & lovely was able to increase its market share as well as volume sales and still they were able to charge their own price.
Maturity:
At present the product is in the maturity stage and now the prices and sales have stabilized to a great extent. To meet the market competition Fair & lovely has been providing discounts and allowances to its customers and its retailers like 20% free or free stuff etc.
Geographic pricing strategy:
As far as geographic pricing is concerned LBPL takes a very good initiative by adopting a uniform pricing strategy. As the product serves as a shopping good as well as convenience good, uniform pricing is the best solution to it. LBPL has its own distribution network thus providing it more opportunity to carry out with its plans of uniform pricing so that in times of crises or transporter crisis, the distribution is not effected. Furthermore non-cumulative discounts and
cash discounts are further provided to encourage retailers to be more prone towards Fair & lovely brand and provide more shelf space, that is why one can still find fair & lovely in the reemit areas as well.
Discounts and allowances:
In order to induce brand loyalty and increase customer satisfaction, fair & lovely has been providing different discount schemes as well as allowances to its customers:
In 1998 fair & lovely introduced a limited time period offer of free gold earrings. The scheme featured that 10 pairs of free gold earring will be awarded to 10 lucky females every month. Just what people had to  do was to send their NIC copy with their name and address. During the offer time period sales increase was even greater than expected and customer response was immense.
Fair & lovely introduced another scheme where they were offereing a free tube at a purchase of 2 tubes. This offer of cumulative discount also proved to be very successful.
2 years back a scheme was introduced in which 20% free cream was being offered at the same regular price. This scheme was also very successful.
PROMOTION
Interflow advertising agency is used for creating the ad campaigns for Fair and Lovely .
Print media as well as the electronic media is used for transmitting advertisements .
TV ads and ads in leading magazines and newspapers are used as a major promotion tool .
Slogan  – THE FAIRNESS CREAM
BRAND POSITIONING
POSITIONING:
Positioning is the act of designing the company's offerings and image so that they occupy a meaningful and distinct competitive position in the target consumer's mind.
BRAND'S TARGET MARKET:
Fair & lovely is mainly a product for young female of all the class categories. Females, who have a dark complexion or who are complexion conscious, who think their dark complexion create hindrance in their dream of marriage.
May be old people and men use Fair & Lovely, but the companies main target market is that of females. Although marketers consider it better to adopt USP, but promoting a brand solely on one or more of its benefits can also be risky. The most enduring meaning of a brand is its values, culture and personality. They define the brand's essence. Lever Brothers stands for high quality, performance and success. This is what Lever Brothers should project in its brand strategy.
POSITIONING STRATEGIES:
Lever Brothers uses the following positioning strategies.
Quality/ Price Positioning:
Fair and Lovely is positioned as offering the best value for the money. It is                     positioned to be a product for daily use and that it becomes a part of customer's life.
Fair and Lovely is positioned as a leader in providing the benefit of a sunscreen along with being a fairness cream. It enhances beauty and glow by providing fairness.
Fair and lovely were pioneers in bringing fairness creams in tubes. Enhancement was done by introducing the cream in jars.
ADVERTISING STRATEGY
MAIN FOCUS: (FULFILLMENT OF A DREAM OF MARRIAGE)
The advertising of Fair and lovely mainly focuses on a girl having a dark complexion. This creates a hindrance in her dream of marriage to a handsome prince. Here comes Fair and lovely with its dual purpose of sunscreen and fairness cream. Continuous use of Fair and lovely for only 6 weeks creates miracles for the girl .
Basically the same ads are being used in India and Pakistan , they are aiming at creating a synchrony within the region .
CONSUMER ADVERTISING:
The advertisement of Fair and lovely is directed at consumer i.e. Lever Brothers employ consumer advertising to promote Fair and lovely. The product is such that there is no business use for it ,so that is why individual consumers are the only target .
INDIRECT-ACTION ADVERTISING:
Indirect action advertising is designed to stimulate demand over a longer period of time. Ads of Fair and lovely on T.V and magazines constantly remind people that this product exists in the market.
Fair and lovely is shown to be a product of daily use, an essential part of every girl's life. Fair and lovely not only prevents them from the harmful rays of sun but also softens and beautifies their skin. It is easily testable because of availability in the sachets.
RELATIONSHIP MARKETING
Fair and lovely has sponsored a drama which is being telecasted on P.T.V. its called
" AIK GANA AIK AFSANA"
This helps in creating  more contact with the consumers .
Fair and lovely has a skin advisory center. Women can ask about their queries by either calling at the advisory center or by mail. The experts at the Fair and Lovely skin advisory center try to solve any problem a women has regarding her skin.
Several schemes have been introduced by Lever Brothers in order to promote Fair and lovely. Recent schemes include "Buy two get one free" offer, " Soney ke jhumke" offer and discount schemes like 20 % free on a 50 ml bottle of Fair and lovely.
PERSONAL SELLING
Lever Brothers believe in personal selling, i.e. direct consumer contact, to be the main factor in the success of Fair and lovely. Door to door selling within certain areas , setting up stalls at exhibitions or melas is also used .
A considerable portion of revenues is spent on promotion .
PLACING
The company has divided Pakistan into several geographical regions.
KARACHI
REST OF SINDH
UPPER PUNJAB
LOWER PUNJAB
W.F.P. and BALOCHISTAN
Lever Brothers has an extensive distribution network in Karachi.  Karachi is the biggest market for Fair and Lovely and all other  Lever Brothers product .  Efforts are made for Fair and Lovely  to be made  available in all parts of the city.
DISTRIBUTION  CHANNELS:
Lever Brothers is known for its strong distribution channels . The sales force is very loyal and committed and known for its dedication and expertise . The sales force of Lever's is the envy of all . Lever Brothers uses a short channel of distribution . The sales force of Lever distributes the product to the distributors who then take it to retailers . At times the sales force directly distributes  . Although it is a very tedious job but still nevertheless the dynamic and large sales force accomplishes this act .
The company avoids using wholesalers, but at times it is forced to do so.  The role of distribution is to provide the product to all customers .
Lever Brothers believes in intensive distribution for Fair and Lovely . The product is such that if exposed to very high or very low temperatures , the cream can get spoiled . So special care is also taken of this .
Lever possess an extensive distribution network. Its coverage is simply staggering. The network can reach every town or village accessible by road. Lever supplies directly to its distributors. Those who cannot be reached, receive stocks through the wholesale trade. Infact, some 80% of volume is catered to directly with only 20% supplied by wholesalers.
The prestige of Lever dealership remains high. The selection procedure is extremely stringent. Lever looks for previous experience and a good reputation in potential distributions.
There are six main depots to which factories send stocks. There are some 900 distributors to cover about 200,000 outlets on a fortnightly and weekly basis.
Using the latest IT technology, these outlets are all scrupulously logged, and this procedure is updated every two or three years. Most important of all, this activity is closely monitored. You can work out where a particular salesman  is on any given day because the sales man visits outlets in a systematic manner. For example if you ask a shop keeper when the Dalda or Lifebuoy salesman visit he will promptly name a particular day of the week.
The field manager, who reports to the branch manger, checks if the distributor has enough vans, motor cycles, and salesmen. He will also check if salesmen are visiting those sites designated by them. They report to branch mangers. " It may be an elaborate system," says General Sales Manger Saeed ur Rehman. " But it is not complex. There are very clear links in the chain."
In addition, there is an Information Technology lead business system which monitors distributions every month and can identify who is doing well and who is not. If the performance is poor, Lever can quickly intervene to find out the source of the problem.
As Saeed ur Rehman adds: " Its is in our interest that distribution activity is profitable. It makes distributors strong and they can reinvest. Although the prestige attached to Lever is a big incentive but that is obviously not enough."
The other major change in the distribution system came when the railways were abandoned in favour of trucks. As a result, pilferage was reduced and accessibility improved.
The names of two transporters, Bashir Siddiq and Malik Awan, are constantly mentioned in this connection. Both started off small with Lever and because they proved efficient in delivering the goods, Lever has stood by them. Today they are major names in the business and have large fleets of trucks and other vehicles at their disposal. They also now have their own
go-downs, and example of the innovative third party warehousing system that Lever pioneered.
Generally there are no conflicts between the sales force.
The retailers are more than willing to keep the brand because it has the backing of Lever Brothers .  The company also indulges in direct selling or personal selling .
DISTRIBUTION STRATEGY:
The distribution strategy for Fair and Lovely is market penetration . The company wants to reach as far and wide as possible . For this intensive distribution is carried  out . Retailers are given discount to keep the product . They are offered other incentives as well .
The sales force is given handsome bonuses if it sells more than the target volume of the brand .
SWOT ANALYSIS
STRENGTHS:
Fair and Lovely is a pioneer as an exclusive fairness cream .
It has a lot of glamour and glitzy appeal .
It is being manufactured by one of the most prestigious MNC's .
There is a lot of technical know how and financial support associated with the brand .
It delivers a consistent and improving quality .
Packs are very attractive and appreciated .
Promotional schemes are considered to be highly desirable .
The brand name .
The strong brand equity.
It inspires trust among consumers .
WEAKNESSES:
Fair and Lovely's only weakness is that the tag of fairness cream attached to it restricts and hinders its expansion . It is too stereotypically viewed as a fairness cream too be used by girls . This can be an obstacle in further growth . It's brand name is very ambivalent , creating positive effects as well as negative effects . Any further plans of expansion in any of the other dimensions of skincare apart from fairness , can be rather  difficult due to the brand name .
The high prices might also be another weakness . People might think it to be expensive in relation to other creams . So sales might drop .
The ads in Pakistan are very much similar to those in India . This gives a disfavorable impression to consumers . People consider it to be plagiarism , although it is not .
The brand personality is getting too stereotyped . A young girl on the verge of getting married . This may lead to people getting sick of this concept .
OPPORTUNITIES:
Personal grooming is becoming very important with each passing day , due to increased exposure to foreign media and the glitziness and scintillation of the fashion world .
Due to pollution in the environment people are facing more skin problems . This is an opportunity which can be cashed upon .
The youth segment in Pakistan is growing , this segment has more disposable income and they are very much concerned about their skin and complexion.
THREATS:
A very pertinent threat is that many people consider skin fairness creams to be detrimental for the skin . There have been certain other fairness creams which have been known to destroy the skin cells resulting in skin cancer and skin diseases . This effect may carry over to Fair and Lovely. People might view it as a skin cream which is harmful, this might result in lesser sales .
The major threat that any brand faces is its competitors . The competitors of Fair and Lovely are as followings –
Tibet
English Fairness snow
Ponds
Revlon touch and glow
Care
Caresse
Nivea
Crème 21
Gypsy
Husn e Bemisal
Stillmans
Dove
Vicco Turmeric
Of all of these creams only Tibet has been a major threat for all those years and it
still has a considerable market share .
Otherwise none of the other above mentioned creams have been able to match Fair
and Lovely . Only Stillman's and Ponds have the potential to come to that standard .
FUTURE SCENARIO:
Fair and Lovely as a brand seems to have a very promising future . The brand has a very high level of growth and awareness regarding the brand among consumers is very high .
Even if 1/4th of this awareness can be converted to sales , it would be great .Out of all the people aware even if 25% start using this brand it can do wonders for revenues and the brand status .
The brand has a very high sales volume and  constant innovation.
In the future there are plans for expansion towards newer avenues . Maybe a soap or face gel by the name of Fair and Lovely might be launched .
A whole skin care regiment or skin care center may be established.
RECOMMENDATIONS
The price of Fair and Lovely is very high compared to other creams . This may be a hindrance in further growth . Many people might avoid buying this cream due to its high price . So steps should be taken to control any further price increases .
It may not be very wise to lay unnecessary emphasis on the fairness aspect . No doubt it is an advantage but then too much emphasis on it may deter the company from future expansions .
Adapting Indian ads is not a very good idea . People invariably get the impression that the Pakistani ad is a rehash of the Indian one . This loses credibility of the brand . If the company wants to use similar ads then both the ads should be aired at the same time in India and Pakistan . Otherwise the Pakistani ad is considered to be a copy .
Ads featuring middle aged women should also be shown , and the wedding concept should be altered to hold people's interest . Otherwise the ads will start giving a feeling of ad nauseum .
LEARNING NOTE:
This report has been highly useful in the sense that it has helped us in gaining a practical feel regarding marketing . We have been able to relate and apply the concepts in the book to real life brands .
It has been of immense help for us . After completing this report we are able to analyze brands in a more effective and reliable manner .
Choosing a well known brand like Fair and Lovely was a great benefit , because the insight that we got from it was amazing and fascinating .
What We have learned out of this whole study will remain valuable for us throughout our career .