Khadim Ali Shah Bukhari [KASB] Bank: Business Profile Report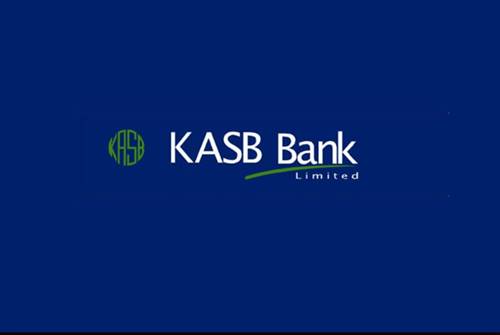 Background and Profile
Khadim Ali Shah Bukhari & Co. Limited (KASB) was incorporated in August 1991. It was the first brokerage house to be listed on the Karachi Stock Exchange (KSE). Founded by Mr. Khadim Ali Shah Bukhari in 1955, it is one of the largest securities houses in Pakistan with 40 years experience in the brokerage industry. KASB offers a full range of financial services through its network of offices in Karachi, Lahore and Islamabad. The company has a diversified revenue base, which includes equity brokerage, money market operations, foreign exchange brokerage, corporate finance and fund management.
Khadim Ali Shah Bukhari & Co. Limited was chosen in the Euormoney awards for excellence 1994 and cited as follows:
"The only local firm to gain serious mention in the same breath as foreign houses in Pakistan, Bukhari's research and sales capabilities are said to be as good as, if not better than, most of its international opposition."
In 1995, Euromoney has once again recognized KASB as the "Best securities firm in Pakistan."
Leading Role in expanding investor base
KASB has taken the initiative in expanding the shareholder base in Pakistan. A separate investment advisory department has been created where individual investor funds are maintained. These incorporate numerous investment benefits and advantages to create dynamic investment means awareness campaign carried out by KASB during the sale of PTC vouchers worth Rs. 3 billion has also attracted numerous investors to the stock exchanges in Pakistan. The Company has also recently launched a Rs. 400 million mutual fund.
Capital Markets
KASB has participated actively in the capital markets in Pakistan. It ahs been instrumental in channeling most of the foreign portfolio investment received in Pakistan since 1990. By virtue of its long and varied experience, KASB is the largest brokerage firm on the Karachi Stock Exchange. KASB has solicited much interest and investment from abroad in Pakistani shares. The Company's network of foreign contacts is extensive and includes investment/securities firms in the UK, USA, Hong Kong and Singapore. AsiaMoney in its supplement on Pakistan in May 1994 has praised KASB in the following manner. "Clients have learnt to keep faith with KASB … and, in the international arena, this has allowed it to forge strong alliances and build top-class reputation." KASB is also active in the privatization's being carried out by the Government of Pakistan.
Services Offered by KASB
Corporate Finance
The Corporate Finance Group (CFG) provides a wide range of services for Pakistani corporate and business groups. Its aim is to provide professional services of the highest quality and act as a general financier adviser, as well as to assist the client in its financing requirements. The services offered by CFG are as follows:
Foreign Placement of Shares. KASB's network of foreign contacts is extensive and includes investment/securities firms in the UK, Hong Kong Singapore and US. For selected companies, CFG can place blocks of shares with foreign and domestic institutional investors.
Underwriting New Share Issues (Initial Public Offerings). The CFG can arrange underwriting syndicates through its network of contacts as well as underwrite a portion of the issue itself.
Privatization and Mergers & Acquisitions Advisory. CFG's Services in this respect include valuation work and a general analysis of the company/business unit.
Term Finance Certificates and Bonds. KASB is actively evaluating the possibility of TFC's and Bonds for blue chip corporates in Pakistan. The Company's capabilities extend to all parts of a debt issue including advising, structuring, marketing, underwriting and market making.
Corporate Financing in Bangladesh. KASB has formed a market association with a Bangladesh-based securities firm; "First Capital Securities Limited". The main purpose of this relationship is to explore potential corporate finance and privatization business in that market. KASB has already completed a pre-IPO equity placement for a Bangladeshi company.
Equities Sales & Trading
KASB is currently the most active equity broker in Pakistan's stock markets and has been responsible for a large portion of the foreign portfolio investment received in the country since 1990.
Opening up of KASB's branches in Islamabad and Lahore has enhanced the Equity Group's distribution capabilities in the local markets. In the international market, the Company has developed a client base consisting of over 500 institutional investors and fund managers. KASB has a mission to provide opportunities for people to participate in the stock market and the ensuing development of capital markets in Pakistan.
Money Markets & Foreign Exchange
KASB's Money Market Group is considered to be one of the leading teams by banks and corporations alike. Besides being a market dealer, the group is actively involved in trading government debt in the primary and secondary markets with individuals, corporations and financial institutions. The Money Market Group also acts as market maker for corporate debt papers.
The major instrument being traded from the KASB Money Market Group is 6 month Treasury Bills and 3.5 and 10 year Federal Investment Bonds (FIBs) and Term Finance Certificates (TFCs).
Even with a relatively new market, KASB has had a turnover exceeding Rs. 56 billion in outright deals and over Rs. 371 billion in repurchase transactions since 1991.
KASB also commands a major share of the foreign exchange brokerage business conducted in Pakistan and acts as Forex broker to over 37 banks.
Research
KASB's weekly and monthly market reports, economic analysis and selected in-depth company research reports are well respected in the local and international markets. A recent survey by Asia Money magazine ranked KASB's research as top among local companies.
The Research Department produces a weekly report entitled "Pakistan This Week" which covers latest economic, political and business situations in Pakistan during the past week. The "Pakistan Monthly Market Report" gives a detailed account of the economic situation in the country, the money market review, stock market activity, and corporate finance news. In addition, this report also features analysis of selected companies in different sectors and KASB's recommendation for these companies.
Investment Advisory Group
The Investment Advisory Group employs innovative financial techniques with established portfolio management principles to offer customers the most advanced services in this field. These incorporate numerous benefits and advantages to create dynamic investment vehicles, which ensure maximum return.
The Investment Advisory Group also acts the advisors to the KASB Premier Fund. At a total size of Rs. 400 million, the KASB Premier Fund is the largest mutual fund managed by a private sector firm in Pakistan.
Human Resources
KASB believes that its people, their motivation and dedication to professionalism, quality and innovation, that add lasting value to each and every customer relationship, are its main assets. KASB provides continuous training to its employees to improve their quality of work furthermore. Their relationship with Merrill Lynch also envisages training of their employees at Merrill's offices in Asia. The emphasis is on doing little things with perfection.
Information Technology
For the support of its core business and to achieve the competitive advantage, KASB has committed significant resources to improving technology. The company made an investment of Rs.10 million on information technology to remain competitive and to improve upon communication. The company adopted the strategy of replacement to deal with the Y2K bug. The new computers have state-of-the-art technology and are year 2000 compliant.
Risk Management
The company believes that improving internal systems can reduce the potential risk. Therefore the company is focusing on three key elements:
Communication
Controls and guidelines
Risk technology
The company follows a rigorous procedure of monitoring, evaluating and managing the risk of the company. The company relies on more technology support in the belief that there is more to risk management than identifying and measuring risk. The process itself has been strengthened by the experience of KASB.