Comparison of Pakistani Banks Products [Citi VS Standard Chartered VS ANZ VS ABN Amro VS MCB]
Below articles reviews the Pakistani Banks Products [Citi VS Standard Chartered VS ANZ VS ABN Amro VS MCB]
The Product:
Standard Chartered Bank was the first to launch personal loans in Pakistan.
Eligibility:
The product can only be availed by employees of a reputable organization.
The applicant should have a minimum of one-year full time working experience.
He should be between 23 and 60 years old.
Net regular monthly salary should be at least Rs.15, 000 or above.
Residing in Karachi or Lahore.
Documentation:
National Identity Card
Salary Slip/ Certificate
Certificate of Confirmed Employment from the Employer
Target Market:
Public Limited Local Company's Employees
Public Limited Multinational Company's Employees
Other companies approved by the bank

ANZ Grindlays Bank
Product Features:
Financing amount ranges from Rs.50, 000 to Rs.300, 000
The financing tenors are 1,2 and 3 years
Disbursement of loan is made within 3 working days.
No end use defined for the product
A processing fee equivalent to 1% of the financing amount is charged.
The loan is disbursed into an account in Standard Chartered Bank. The repayment of equal, monthly installments are made using the same account through standing instructions.
The Human Resource department of the corporate is involved. The company will inform the bank in case of death, retirement, resignation etc.
If employee defaults/skips the loan is adjusted against end of service benefits, provided that the employee gives them the authority to do so.
For Public limited local companies the Internal rate of return charged is 24%
For Public limited Multinational companies the Internal rate of return charged is 20%
For other companies that are approved , the Internal rate of return charged is 22%
Prepayment penalty of 5% of the outstanding loan amount.
Product Features:
Financing amount ranges from Rs. 30,000 to Rs. 300,000
The financing tenors are of 1,2 & 3 years
Disbursement of loan in 10 days
The internal rate of return (IRR) is 18% per annum on the reducing balance, irrespective of financing amount and financing tenor
They are also offering exclusive deals for personal loan borrowers that includes,
Vacation package arranged by Gerry's International
Exclusive deals from Philips ( 20 – 30 % off )
Casabella home furnishings with attractive discounts
Gerry's Soft Logic is offering three different configuration on both desktops and notebooks
For marriage purposes Almas Jewels International, Karachi is offering 20% discount and in Islamabad Jewel collection is offering 32%.
The Customer must mention the purpose of the loan so as to get the voucher on the respective deals e.g. if he fills electronic items he will get voucher for the Philips deals only.
The maximum loan allowed is four times the customer's salary
Processing fee of Rs. 1,500 or 1% of the principal loan amount, whichever is higher, to be charged at the time of loan disbursement
Prepayment penalty of 5% of the outstanding loan amount
Monthly repayment can be done through post-dated cheque or direct debit instructions through your current/saving account at ANZ.
Security is the household assets of the Customer.
Insurance being done through Adamjee with a flat Premium of Rs. 750 per annum.
Eligibility:
At least 1 year or in business for at least 3 years
Age 22-60 years
Residing in Karachi, Rawalpindi/Islamabad
Pakistani Resident
Minimum net monthly income of Rs. 15,000
Documentation:
NIC
Salary Slip/ Certificate
Certificate of Confirmed Employment from applicants company
Income tax return (for self-employed)
Target Market:
Salaried Corporate Employees
Self employed
Residing in Karachi & Rawalpindi/Islamabad
Note: The Head Office in Melbourne has not yet approved the Personal loan scheme.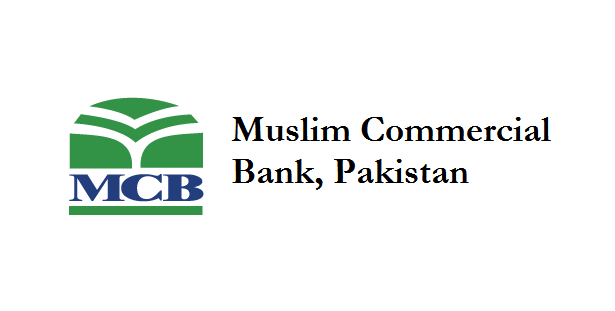 Target Market:
Selected Institutional MCB customers
Eligibility:
Minimum net monthly income Rs.10, 000
25 to 55 years of age
Permanent resident of Karachi
At least 2 years of employment with current employer
Product Features:
Financing amount ranges from Rs. 30,000 to Rs. 500,000
The financing tenors are of 1,2 & 3 years
Disbursement of loan in 8 days
The internal rate of return (IRR) is :-
A rank company's employee:- 1 yr              13.99 %
2 yr               16.00 %
3 yr               16.00 %
The worst case scenario is 23 % for 3 yr period for least graded company.
The Customer has to be an Employee of a Firm in there approved list of companies ( These are institutional MCB Customers in Karachi )
Since the loan is through the Customer's HR Department, a lien is marked on the customer's salary account in favor of MCB.
No end use defined.
Processing fee of 1% of the loan amount
Prepayment penalty is 2 % of the outstanding loan amount
Minimum income must be Rs. 10,000
Loan Protector shield i.e. in case of death customer Bank is covered through insurance.
Mode of disbursement through either direct salary transfers, payroll deductions or post dated cheques
Balance Transfer Facility is merely one tranche payment to the Customer. Funds are transferred to an MCB account from which customer can take out money. The customer can actually use the amount for anything.
 
The Product:
It is known as Balance Transfer Facility. The product enables customers to transfer their credit card balances to a switch account with ABN AMRO and to pay their credit card bills at a rate that is 13-16% lower than charged by credit card issuers.
Eligibility
Applicant should be between 21 and 60 years old.
He must have a valid Citibank VISA/MasterCard or ANZ VISA/MasterCard that has been renewed at least once (held by you for the last one year)
Salaried person must have been employed for 3 years (or more) overall, or at least 2 years with your current employer.
Self-employed and business-persons experience must be equal or more than 3 years.
Documentation:
Copy of National Identity Card
Copy of latest Credit Card Statements
Original Bank Statements for the last six months
Copies of your Citibank and/or ANZ Credit Cards
Proof of Credit Card Renewal (for ANZ Credit Card holders only)
Any other documents that ABN AMRO Bank N.V. may require
SALARIED PERSONS
Employment certificate from HR/Personnel Department
Original salary slip (latest)
SELF-EMPLOYED PERSONS
Professional association certificate (for Self Employed professional only)
Proof of Business (for Self-employed business persons only)
Target Market:
Salaried as well as self-employed individuals
Those who have credit card issued in Pakistan.
Who make minimal monthly payments and revolve the balance amount.
Who feel the need to lighten their credit card burden
Product Features:
Minimum/Maximum Loan size should be ranging from Rs.50, 000- Rs.300, 000.
Annual Fee of Rs.700 is deducted from the account
There is no joining/processing fee charged
The financing amount or the credit limit is determined by:
3 Gross salaries / 3 net incomes, or
300, 000, whichever is lower
Minimum monthly payments include:
3% principle
20% interest on outstanding balance
Option to prepay entire / partial amount without any penalty
An individual walk-in customer will have to open an account of minimum Rs.100, 000 with ABN AMRO and maintain it for three months before availing the switch facility. For a MNC employee, he can avail the service immediately with a zero balance account.
Relationship card will also be issued; with this card a customer can access any of the 24 ATMs across the country.
Mode of repaying the loan is through standing instructions or dropping a cheque against the customer's account.
Extended Features through Relationship Card: (Valid till September 30, 2000 in Karachi, Lahore and Islamabad)
10% at Hang Ten, Chen One, Labels, Fiction, Tie Shop, Mocciani, Bally and Ravissant on various purchases.
15% discount on wedding dresses from Exclusive and at Las Ropas, Mianz Nightwear, Angie's Beauty Parlour and Cotton & Cotton.
20 % discount at Wrapables Lovable, Picasso and Neelo's.
30% off at N.M. Chhotani, U.N. Chhotani and no making charges.
100 discounts on IRONEEZE and Rs.50 on BH branded products at Bien Habille.
Various Discounts ranging from 15-50% at Suzuki Carachi Motors and Hyundai Motors.
10% discount at Wrapables on perfumery, Afgahn Carpet, Malikas's Leather Shop and Mir Ain Furniture Studio on all purchases.
5% discount at Treasure Island.
15% on all products and services at Zeritta Flowers and 15% discount at Mir Ain Furniture Studio if you are buying product worth more than Rs.150, 000.
5-10% at Pearl Décor and 10-15% at Gallery 2000.
10% at Pizza Hut, Dunkin Donuts, New York Café, Déjà vu, Nacho Nana's and Ming Court Chinese Restaurant.
15% at Copper Kettle, Arizona Grill and also for Food and Beverages at Avari Hotel Beach Luxury Hotel and dinner at Café Blue.
20% on pre-booked lunch at Café Blue, 25% on membership fee at Laser Club.
Free Delivery from "a La Carte Xpress."
30% Discount at Avari Beach Luxury Hotel on rack rates.
20% discount on all services offered by Avis Rent a Car and Budget Rent a Car.
Travel by Qatar Airways and win a return ticket to Dubai.
10% discount on Health Club Family Membership at Avari Beach Luxury Hotels.
15% at Rehman & Rehman Dental Clinic.
10-15% at Adidas Sports.
10% at Lords World of Sport and 10-25% at Clubs Sports International.
Net; Free Installation, Free 10 hours, 10-20% discount on Web Page Development.
Night Sky; 7% on Telescopes, 10% on Telescope Accessories and other Free accessories.
10% at Informatics on all short courses.
15% at Paramount Books.
50% discount on @Internet Magazine
10% Discount at Chowkandi Art Gallery and Majmua Art Gallery on all purchases.
The Product:
A brand of National Consumer Services (Pvt.) limited. The company was formed by the partnership of Pilots' Occupational Disability Fund (PODF) and Invest Capital Securities (Pvt.) Limited. Currently it is providing loans for purchasing Hero Honda motorcycles, Fashion Furniture and diverse range of home appliances.
Target Market:
Corporate Employees
Walk-ins
Product Features:
The company is currently giving loans only in Karachi
No restriction on maximum financing limits
Very wide variety of household appliances that are being or can be financed
Home delivery
Cost of documentation is Rs.500 that includes insurance
Transportation cost (Home Delivery) is Rs.200, which includes in-transit insurance
For Corporate Employees: (Furniture & Home appliances)
Zero percent equity required
The choice of financing tenors for Home appliances is 3,6,12, 18, 24, 30 or 36 months.
The choice of financing tenors for Fashion Furniture is 12, 18, 24, 30 or 36 months.
Minimum three years of permanent employment.
Employer guarantee required
The Internal rate of return charged is low as compared to other companies:
| | | |
| --- | --- | --- |
| Period in months | Home Appliances | Fashion Furniture |
| 3 | 10 | – |
| 6 | 8 | – |
| 12 | 11.093 | 11.093 |
| 18 | 12.4 | 12.4 |
| 24 | 14.18 | 14.18 |
| 30 | 15.872 | 15.872 |
| 36 | 16.894 | 16.894 |
For Walk-in customers: (Home Appliances & Fashion Furnitutre)
30% down payment for Home Appliances
30% down payment for Fashion Furniture
Fixed financing tenor of 12 months
IRR for Home appliances is 26.62%
IRR for Fashion Furniture is 26.67%
Bank Employee guarantee required and relative guarantee required.
An extra Rs.300 is charged for authentication documentation.
Initial cost plus 11 dated cheques.
HERO HONDA Features:
Financing available for only 12 months
Minimum down payment of 30%
The internal rate of return charged for 12 months is 26.59%
For Corporate Employees: (Hero Honda)
Employer guarantee
Employer must be registered with NCSL
Customer must be listed as pre-approved candidate.
Minimum three years of permanent employment
Employer will deduct the monthly installments from the customer's salary
For Walk-in customer: (Hero Honda)
Two guarantees required

Employee of a respected financial institution in Karachi or an employee of any known private sector foreign or local organization with a service life over 5 years in the said organization.
There is no requirement for the other guarantor

Hire Purchase Agreement:
12-post-dated cheques for monthly installment