Top 7 festivals to attend once in a lifetime if you're in Japan: By Hira Munir
Top 7 festivals to attend once in a lifetime if you're in Japan: By Hira Munir
If you're looking to witness spiritual traditions, classy cuisines, thrilling music beats with a spice of fireworks, colourful costumes & much more; then Japan is waiting for you. It is the land of cultures, traditions & rituals. Japan is not only known for celebrating religious events but also cherishing celebrations to honour natural beauty, blossoms & snowfalls too.
The natives of Japan have a zest to welcome every ceremony in the whole spirit, which makes it a tourist-friendly place for an ideal holiday. Here is a list of the top 7 festivals you must attend once in your life to create colourful memories.
Sapporo Snow Festival – early February
As the name indicates, this event is the epitome for everyone who wants to marvel at the snow, sculptures made at least 50 feet high depicting well-known characters & superheroes. This magical event attracts a vast number of 2 million visitors each year.
Under the moonlight, when over 100 statues are illuminated for the spectators along with snow slides, warm drinks, finger-licking cuisines & a cozy environment to chill with your loved ones, it gives you an everlasting experience of joy. It's all worth a visit in short.
Gion Matsuri – July
UNESCO recognizes this month-long festival as an Intangible Cultural Heritage of Humanity. It is celebrated in Kyoto, a religious ritual in response to the plague that broke out in Japan during the year 869. Now the cities largest festival is an attraction for numerous locals plus travellers.
Gion Matsuri is all about showcasing Kyoto's history & culture. Many of Kyoto's oldest families display their possessions at the doorsteps of their houses for the people to admire & learn about their heritage. Street food, local beer, processions of floats & traditional yakuza robes are landmarks of this event.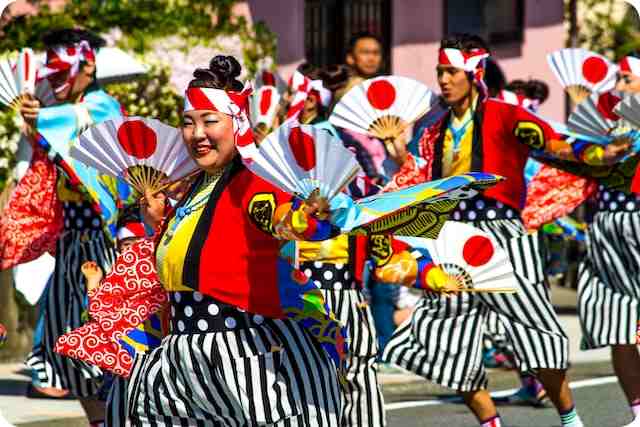 Awa Odori – August
If you are a dance lover, this is an excellent chance to attend this fantastic festival that attracts 2 million visitors each year. This festival promises fantastic dance at the beat of traditional instruments. Men in tabi footwear & women in wooden sandals portray eye-warming folk performances with acrobatic elements.
Sakura Matsuri – takes place various times during spring
With mother nature setting her schedule each year, this cherry blossom festival takes place more than ones in a year. This event is celebrated as a token of appreciation to spring to praise the beauty God has created. Sakura means cherry blossom, which is the national flower of Japan.
According to the belief of Buddhists, it is said that appreciation of the short-lived blossoms also has spiritual significance. So this fantastic event is all about enjoying the beauty of blooms.
Tenjin Matsuri – Late June
Tenjin Matsuri is one of the most popular events celebrated for a month boasting more than 1000 years of history. It is celebrated for its dual land & river possessions, topped off by some breath-taking fireworks along the way too.
The roars of drums, men are donning red hats swarming the streets, making announcements, along with a crowd of over 3000 people marching from Tenmangu shrine never disappoint to give you the two most unforgettable days in Osaka.
Aomori Nebuta Matsuri – August
Nebuta refers to the brave warrior figures; hence, this event features stunning floats shaped as mythological famous Japanese characters. They replicate the army of the 800s to scare away the enemy.
The event's highlight is innumerable lantern floats, surrounded by giant drums, musicians & dancers. In addition, tourists can enjoy the warm live music, tasty food, mesmerizing lights & vibrant colours.
Kishiwada Danjiri Matsuri – September
The month of September brings with it essentially a harvest festival to pray for a good autumn bounty. This fun, powerful event takes place in South Osaka. A wooden float is beautifully decorated & ornamented with lots of pretty carvings. Some are crafted in the shape of a shrine, others in the form of a temple.
On the day of the festival, floats are pulled through the streets by a group of 1000 people. The idea behind it is that each float is designed to represent different city districts, with each district's pride at stake as each team is competing for victory.
Don't miss out on attending these events at least once in your life. Japan is the city of festivals & visiting it gives you an unforgettable experience. Happy Festivals!
Photo by zoo_monkey on Unsplash