Madar-i-Millat Miss Fatima Jinnah: A Political Appraisal
Madar-i-Millat Miss Fatima Jinnah: A Political Appraisal: By Ahmed Hussein
On 9th August 1947, Quaid-i-Azam declared: "Miss Fatima Jinnah is a constant source of help and encouragement to me". The statement shows the importance of Fatima Jinnah in the struggle for Pakistan. Miss Jinnah helped her brother all his life to struggle for democratic and parliamentary spirit. Politically speaking she approved the parliamentary system for Pakistan as was adopted in 1947 and stood for its defense till her death in 1967.
When president Iskander Mirza resigned on October 27, 1958, Miss Fatima Jinnah critically analyzed the policies followed by him as dictatorial and anti- parliamentary. To further the cause of her cherished political system, she decided to contest the presidential election against president Ayub Khan in 1965, with a manifesto "to restore parliamentary system" vis-a-vis existing presidential system.
Being fully aware, that the electorate college of 80000 votes would lose their position if the procedure of one-man one vote was adopted. Secondly, the administration was biased. President Ayub Khan openly criticized the parliamentary form of government and ridiculed the system, as not being according to "genius of the people". She lost the election but the honesty of purpose bore the fruit resulting in acceptance of political defeat by president Ayub Khan in 1969 by acceding to the demand of one-man one vote and direct election the legislature. It all happened because Mohtarma Fatima Jinnah had no lust for power but wished to have a stable democratic government in Pakistan, for which he saw her brother toil hard.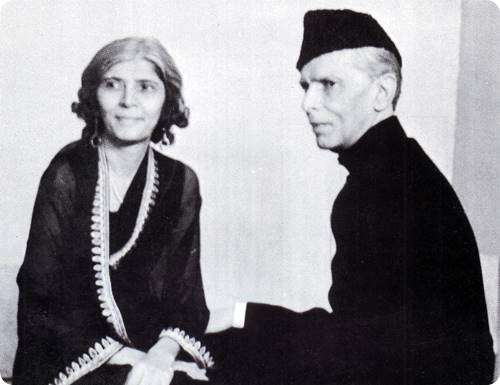 She entered active politics in 1938 with the formation of a sub-committee or women in the all India Muslim League. She constantly, enlightened Muslim women about the struggle for independence. Attended sessions of the Muslim league and discussed the various problems being faced by the Indian Muslim women.
By profession. Miss. Jinnah was a dentist and started a clinic in Bombay i 1923. Nonetheless, on the death of Mrs. Ruttie Jinnah (Maryam) on February 0, 1929, she decided to close her clinic and look after household affairs of her lonely brother. Since then, she became a constant companion of her brother and admired his political involvement in Indian politics for the Muslim cause.
Politically she was not ostentatious. But only an admirer of the Quaid. It was during this companionship in November 1940 that her brother became sick while traveling by train. Later on, it was diagnosed that he was suffering from pleurisy. The ailment aggravated gradually and finally he died due to it. Politically he had to address a number of Muslim league meetings and about his health, doctors kept on advising to make very "brief speeches and have long rest". But the Quaid ignored both because he firmly believed in dedication to the Muslim cause and creation of Pakistan.
It was only because of the emotional and medical help of his younger sister that he continued the difficult work of independence with deteriorating health and achieved success. The Quaid believed in emancipation of Muslim women on Islamic principles. For this he took Miss. Jinnah with him to public meetings and functions. She walked side by side with him and did not follow him; to give impression of equality of genders.
Her performance was excellent, domestically and socially,aa she was a public figure of high stature. In the end, it is correct to say that she is a role model for Pakistani women. Our women have become active politically with increased number of female seats in the assemblies. They have to emulate the concept of dedication and loyalty demonstrated by Madar-i-Millat, to make women progressive, with emphasis on education- leading to social and political equality.
"What brings distinction to the youth is their pure and clear mindedness, prime determination, and selfless spirit."

Mohtarma Fatima Jinnah
Address – 1956