Government College Lahore — My Home: Sonnu Rehman
Government College Lahore — My Home : By Sonnu Rehman [Old Ravian and Educationist]
I was amongst those lucky ones whose college years were spent in pre-partition Lahore. For us students, Lahore was where students came first. It was a city where cultural activities were central to its existence, especially those in which students took part. Debates, plays, musical concerts, competitions and athletics filled our lives. But above all was the love and respect we had for our great teachers which made learning and the love of books an ingrained part of our lives.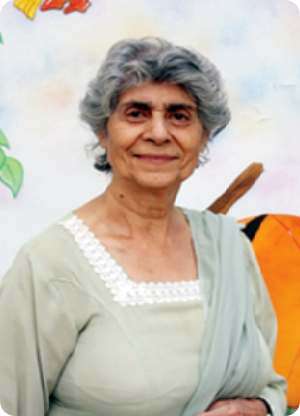 After my matriculation I joined Kinnaird College and was there till my fourth year. Father had become Principal Government College Lahore in 1939 and he decided that it was time my sister and I were exposed to a wider world, so we were enrolled into GC. In those days the number of girls enrolled into the undergraduate classes could be counted on one's fingers. I was the only girl in my class!
The only person I knew was Krishan Khanna, a childhood friend. By the way he was to become a world famous artist, but at the time was my only defense in a world of staring males. Gradually my fears abated and I became friendly with others in my class. Lahore had a rich variety of different religions and cultures. Amongst those I came to know were Hindus, Sikhs and Muslims. After partition I only met a few occasionally when I would go to India to meet my parents. By now several have passed away, but thanks to the many re-union events encouraged by Dr. Khalid Aftab. I was able to meet one of my class-mates last year; Sardar Pushpinder Singh who sought me out and came over with his wife to meet my family. We were meeting after 60 years! We could not stop talking "about those days" and I had tears in my eyes when they left. It was as if once again the old Lahore was disappearing.
The population of Lahore in the 1940s was 7 lakh and the student population of GC was 1000. I remember my father saying that when the Governor heard this he was shocked! On the last count the number had been 800, how could it have risen so much in just four years? We were never more than 25 or 30 at the most in a class. My memories of our teachers are beginning to fade, but some are still outstanding.
For European History we had Kishen Singh Thapar. When I submitted my first essay to him it was returned with a "C". I was stunned. At Kinnaird I had regularly got straight "A"s in my assignments. When I asked him what I had done that was wrong, he said that my facts were all there but there was no logical structure to my essay. He made me re-write that answer thrice, before he gave me an "A" grade. He inspired in me a love of History and an eagerness to understand events by looking for their logical development.
Today when I teach the same periods he  taught me I hear him telling me. "Emphasise the logical development of events and then you will get the students to understand and analyze the events that they are studying." Another teacher of History, whose name I will not mention, had notes on a paper that was crackling with age and was a definite shade of yellow!
One day. rambling through my father's library I came across Wade's History of the British Parliament. Our teacher's notes were word for word from there! Sufi Tabassum Sahib was our Urdu teacher. I have never stopped regretting that my level of Urdu was so poor that I could not benefit from this great teacher's lectures. He had a great sense of humour and was much loved by the students.
Prof. Siraj was the acclaimed wizard of English Literature. I had not taken literature as one of my subjects but to this day I keep hearing of the absolutely captivating lectures he gave. Students who did not take Literature would, nevertheless attend his lectures. He never took roll-call, he had no need to. On the other hand, another teacher, also of Literature, who was an Englishman, would have a full class when taking the roll-call, but would end up lecturing an almost empty class-room! He would monstrously keep reading from his notes. never looking up to engage the class in discussions. So it was easy for the bored students to quietly disappear one by one.
BodhRaj Sharma taught us Political Science. One day some one made a joke in class and we all laughed. I don't know why but Sharma Sahib suddenly turned on me and said, "Leave my class, you are a great disturbance." I was shocked, but one did not argue with teachers on matters of discipline, and so I left. After the period was over he came up to me and apologized, because he must have realized that I hadn't done anything wrong. That sort of honesty requires both courage and great dignity. I have always remembered him with admiration.
Mr Puri was in-charge of plays. I had shown some talent while at Kinnaird and our plays, in those days, could be staged at the Open Air Theatre in the Lawrence Gardens. So I was asked to audition for the Urdu translation of Shaw's "Doctor's Dilemma". As I have admitted my Urdu was pathetic, so when I stumbled through the script, another teacher looked on in horror at Mr Puri for even thinking of letting me audition. But Puri Sahib assured him I could speak Urdu and so once I had memorized my lines, I would be alright. Very reluctantly this gent agreed. The play went off well and Mr Puri retained his reputation as a good director and producer.
As father was Principal we stayed in the "Lodge", a typical Raj type bungalow at the back of the college. Today part of the Bokhari auditorium occupies the place where the kitchen used to be. In those days the British saw to it that the kitchens were separate from the main building because they could not stand the smell of "native" food. Now you go to London and you'll see them eating nothing but "native" food!
A couple of years ago I had to come to the college to interview students short listed for the Sondhi Medal, Normally the interview would be in the Vice-Chancellor's room, but as that was being repaired we went to the new post-graduate block. As I climbed the stairs I looked to my right. There was a peepal tree which used to grow outside the back verandah of the Lodge. I realized with a painful shock that this was all that was left to mark the place where the gracious, spacious home, the Lodge, had been.
With difficulty I choked back my tears. Dr Aftab realized how I was feeling and said that sadly, the Lodge had been raised to the ground before his time, or else he would have definitely preserved this 'piece' of college history. The private tennis court and rose garden that had made the Lodge quite a place to envy, were also gone and in their place stood huge blocks of classrooms and professor's rooms. Father was a great gardener and one of his favourite features was making rockeries. There had been a beautiful rockery with a waterfall and a pool, winding paths and little flower beds sprouting the most exotic plants to our left as we drove into the Lodge. That was also no more.
Talking of gardens, father had a "Scholars' Garden" made outside the then Principal's rooms, now the VC's. It was at a lower level, parallel to the stage of the Open Air Theatre. There were lilies and other rare plants bordering a slow, winding stream and benches under shady trees for the scholars to sit under. Yes. only scholars were allowed in this holy of holies. Another feature of my youth that has disappeared was the swimming pool. It was further down from the Quadrangle. All of us, professors' children, learnt to swim there and right till we left the Lodge we regularly swam in this pool. It was dark and not very clean, but I loved it.
Whenever I come to GC it is like a home coming for me. In some ways nothing has changed. The same long benches we sat on with their attached tables are still there, the flowering "gulmohar" is in the little quadrangle above the Open Air Theatre, and the corridors seem to be as noisy as they were. I was born under its shade across the road in the duplex bungalow at 6 Kacheri Road, opposite the zoology labs, and I spent all my formative and happiest years in the Lodge. My mentors were the great teachers who taught us, and my companions were the delightful, brilliant students, amongst them no less a person than the great Abdus Salam, who lived in companionship and understanding with Hindus, Sikhs, Parsis and Muslims, all.