Faiz Ahmed Faiz's – Poem for Palestine [with English Translation]
Faiz Ahmed Faiz's – Poem for Palestine [with English Translation]

Falasteen Shuhadaa jo Pardes main kaam ayay
Main jahaan par bhi gaya arz e watan
Teri tazleel ke daaghon ki jalan dil mai liyay
Teri hurmat ke chiraaghon ki lagan dil mein liye
Teri ulfat, teri yaado ki kasak sath gayi
Teray naaranj shagoofon ki mehak saath gayee
Saray un dekhay rafeeqon ka jilo sath raha
Kitnay haathon se hum aghosh mera haath raha

Dur pardes ki bay-mehr guzargahon main
Ajnabi sheher ki bay-naam-o-nishaan rahon mai
Jiss zameen par bhi khula meray lahoo ka parcham
Leh-lahata hai wahan arz-e Falasteen ka Alem
Teray aada ne kiya aik Falasteen barbaad
Meray zakhmon ne kiye kitnay falasteen aabaad

English Translation

For those Palestine Martyrs, who never returned home
Wherever I wandered, oh the soil of my homeland.
I had the burn of the scars of your disgrace
I had in heart the hope of lamps lit in your reverence
Your love, the torment of your memories remained with me
The fragrance of your orange citrus went with me
I had with me support of all my unseen loved ones
My hands remains in company of the hands of my friends
Faraway in the unnamed lanes of unfamiliar lands
At the unnamed streets of a stranger city
Wherever I had opened the flag made of my blood
The flag of  my homeland Palestine waved there
Your opponents destroyed one Palestine.
But my wounds has given birth to many Palestines now.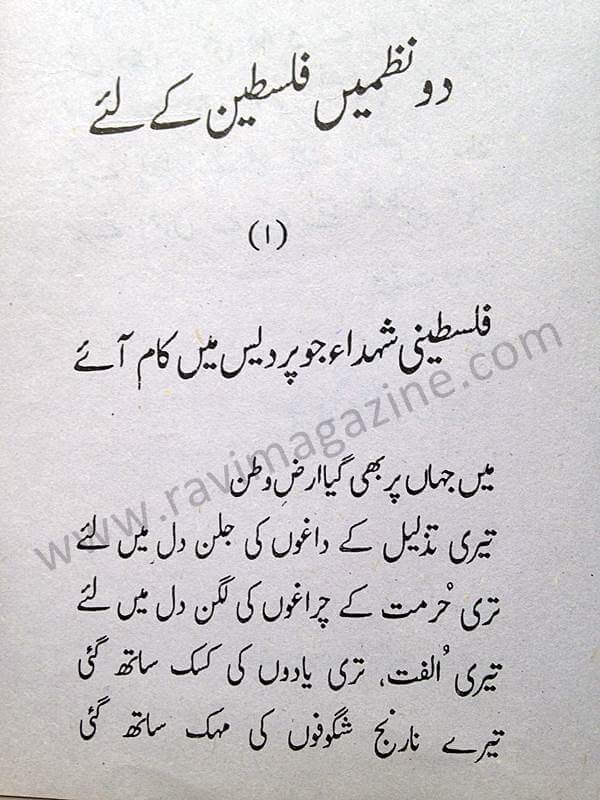 فیض – فلسطین کے لئے نظم
مَیں جہاں پر بھی گیا ، اے ارضِ وطن
تیری تذلیل کے داغوں کی جلن دِل میں لیے
تیری حُرمت کے چراغوں کی لگن دِل میں لیے
تیری الفت، تیری یادوں کی کسک ساتھ گئی
تیرے نارنج شگوفوں کی مہک ساتھ گئی
سارے اَن دیکھے رفیقوں کا جِلو ساتھ رہا
کتنے ہاتھوں سے ہم آغوش مرا ہاتھ رہا
دُور پردیس کی بے مہر گزرگاہوں میں
اجنبی شہر کی بے نام و نشاں راہوں میں
جِس زمیں پر بھی کھلا میرے لہو کا پرچم
لہلہاتا ہے وہاں ارضِ فلسطیں کا علم
تیرے اعدا نے کیا ایک فلسطیں برباد
میرے زخموں نے کیے کتنے فلسطیں آباد
All poems of Faiz Ahmed Faiz are in Public Domain and can be reproduced and published without permission of Ravi Magazine.